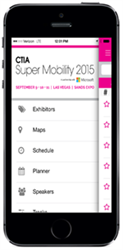 Columbia, MD (PRWEB) August 19, 2015
a2z, Inc. is pleased to announce that CTIA–The Wireless Association® will be utilizing a suite of powerful and innovative technology solutions to offer networking, matchmaking, event promotion, time saving and planning tools to attendees and exhibitors for CTIA Super Mobility 2015—the largest and most influential forum in the Americas focused specifically on mobile innovation. This springboard event brings together professionals from all across the new mobile landscape to experience the leading-edge technology that is driving and enabling the connected life. This year, the annual event will take place September 9, 10 & 11, 2015 at the Sands Expo in Las Vegas, Nevada.
CTIA Connect is an online networking and matchmaking solution that is an integral part of CTIA Super Mobility 2015. Attendees have the ability to build a personalized show planner, consisting of their favorite exhibitors, exhibitor meetings and sessions. CTIA Connect also provides exhibitors the opportunity to create an online eBooth to showcase their latest products and services to attendees before they travel to the show. In addition, each exhibitor is matched with registered attendees who indicate interest in the product categories associated with its profile. Exhibitors can directly connect with attendees via direct emails.
In addition, CTIA is utilizing the ChirpE Mobile App Solution to enhance the attendee experience. When attendees download the mobile app, they will see many features designed to help them be more productive at CTIA Super Mobility 2015. All selections made in CTIA Connect will be accessible from the event app, along with real-time alerts, local information and social media. The CTIA Super Mobility 2015 Mobile App is available for iOS and Android devices, as well as all Internet-enabled smartphones.
The eBooth Promotion Widget, a dynamic plug-and-play utility, is available to CTIA exhibitors through their online eBooth console. Exhibitors can embed the widget anywhere on their website, blog or e-newsletter by copying and pasting a small block of code, making it one of the easiest and most effective ways of engaging prospective business leads and showcasing their attendance at the event. CTIA attendees can add exhibitors as favorites to their personal show planners and register for the event with a single click.
New for this year, CTIA is providing registered speakers the opportunity to engage their prospective audience before the show starts with the ChirpE Speaker Promotion Widget. Like the widget for exhibitors, this powerful utility can be embedded anywhere on a speaker's website, blog or e-newsletter and allows visitors to directly view speaking sessions and register for the event.
To learn more about CTIA Super Mobility 2015, please visit http://www.ctiasupermobility2015.com.
About a2z
a2z, Inc. provides powerful web-based event management tools that grow your show by increasing and accelerating booth sales, helping boost revenue, and enhancing engagement and value for everyone. a2z, Inc. powers more than 1000 leading events every year. Our clients benefit from increased connectivity with their audience via an improved website for their attendees and exhibitors and both web-based and native mobile app solutions. a2z offers three platforms as one integrated solution: Expo & Conference Management, Networking & Lead Management, and ChirpE Mobile–which includes our web-based and native mobile apps for smart phone and tablet devices.
About CTIA Super Mobility 2015
CTIA Super Mobility 2015 (ctiasupermobility2015.com) is the largest forum in the Western Hemisphere for the mobile innovations that power our connected life. More than 35,000 mobile professionals and executives and 1,100+ exhibitors from around the globe gather for this powerhouse technology event for its unrivaled networking opportunities and to share leading-edge trends, discoveries and knowledge. CTIA Super Mobility 2015 is held September 9, 10 & 11, 2015, at the Sands Expo and Convention Center in Las Vegas, USA.
Twitter: @ctiashows #SuperMobility | Facebook: ctiashows.com/facebook | LinkedIn Group: http://www.ctiashows.com/linkedin