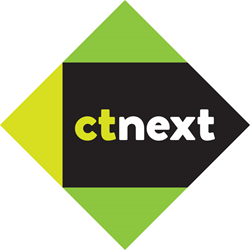 Innovation Places weaves together entrepreneurship support and relationship-building with physical planning and development.
Rocky Hill, Conn. (PRWEB) July 12, 2016
CTNext, Connecticut's go-to resource for entrepreneurial support, today announced the launch of Innovation Places, a program focused on the development of key places in the state to become magnets for talent.
"The Innovation Places initiative seeks to support entrepreneurs and leaders developing places that will attract the talent high-growth enterprises need," said Glendowlyn Thames, director of CTNext. "Innovation Places weaves together entrepreneurship support and relationship-building with physical planning and development. The CTNext Board of Directors will look for applications that focus on private-public partnerships and create a vibrant atmosphere for residents and the workforce."
The cornerstone of the initiative is two grant competitions:
1. Planning Grants of up to $50,000 to help communities conduct a strategic planning process to identify emerging relevant conditions and to build a master plan that leverages the resources and assets in each community to create new opportunities.
2. Implementation Grants to provide communities with a portion of the funding required to implement the master plan. An amount of $4,900,000 has been allocated each year for five years, to augment private and public investments in programs and infrastructure likely to attract talented people and increase knowledge-sharing that leads to innovation. This is a competitive, merit-based application process intended to make the greatest use of the funds. Grant funds may be used for (including but not limited to):
a. Attracting and directing support to early-stage businesses and attracting anchor institutions;
b. Developing, in collaboration with private partners, a business incubator, coworking space, business accelerator, or public meeting space;
c. Events, community building, marketing, and outreach; and
d. Open space improvement, housing development, bicycle paths, and improved technology infrastructure, including broadband.
"Talented people are drawn to places where they can learn quickly and work alongside others to invent what's next," said Catherine Smith, commissioner of the Department of Economic and Community Development. "This is an opportunity for a diverse set of entrepreneurs, leaders and institutions in our communities to collaborate to make the kind of lively, walkable, transit-oriented places where innovative companies want to grow."
Applications for planning grants are now being accepted and are open through Monday, Sept. 12, 2016. Grant awardees will be notified in October 2016. The implementation grants phase will begin in November 2016 with awardees being announced in June 2017. All funding is dependent on approval of the CTNext Board of Directors.
Eligible applicants include corporations, associations, partnerships, limited liability companies, benefit corporations, nonprofit organizations, municipalities, institutions of higher education or any other similar entity.
For more information on the program or to apply, please visit: http://www.ctnext.com/innovation-places.
About Connecticut Innovations Inc.
Connecticut Innovations (CI) is the leading source of financing and ongoing support for Connecticut's innovative, growing companies. To maximize the growth potential of each business, CI tailors its solutions and often combines its funds with resources from other financial leaders to provide venture capital and strategic support for early-stage technology companies; grants that support innovation and collaboration; and connections to its well-established network of partners and professionals. For more information on CI, visit http://www.ctinnovations.com.
About CTNext
CTNext is Connecticut's innovation ecosystem designed to build a more robust community of entrepreneurs and to accelerate early-stage growth by providing access to talent, space, industry expertise, services, skill development, and capital to foster innovation and create jobs in Connecticut. CTNext was launched in 2012 and has worked with more than 1,100 companies. CTNext is a wholly-owned subsidiary of Connecticut Innovations. For more information on CTNext, visit http://www.ctnext.com.