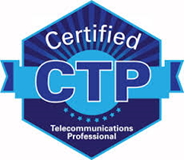 Telarus has become the first distributor of commercial data, voice, and cloud solutions to have 100% of its employees complete the CTP certification from the Technology Channel Association
Sandy, Utah (PRWEB) January 23, 2014
Telarus, Inc., distributor of business data, voice and cloud services, today announced that their entire staff has completed the Certified Telecommunications Professional (CTP) program administered by the Technology Channel Association (TCA). The CTP is a certification course designed to advance Agent business relationships and energize the channel. Certified Telecommunications Professionals are recognized by leading carriers and service providers channel-wide, as meeting the high standards of the TCA.
"We added 23 people to our staff in 2013. It's important to me that each new person hired by Telarus has the skill required to help our growing partner base," added Adam Edwards, President of Telarus,Inc. "No matter the department, we want to ensure every one of our employees goes through this certification process. I am very proud of our staff for this accomplishment and I look forward to continuing to add more certifications down the road."
The Certified Telecommunications Professional certification consists of five hours of video training and a 200 question exam that covers a wide range of Telecommunication terminology and services.
"Our organization is always pushing the boundaries of providing a higher level of service for our partners and this certification shows our commitment," added Austin Holverson, Director of Marketing for Telarus. "If you're looking for a value added distributor that invests heavily into their support structure and provides real-time patented carrier research tools, then Telarus is the only place to put your business."
Telarus has already put a plan in place to introduce cable certification as their next milestone.
About Telarus
Telarus, Inc., a value added distributor that holds contracts with the world's leading commercial telecommunication carriers, makes it easier and more profitable for solution providers, VARs, and MSPs to sell and source voice and data WAN solutions. Our patented GeoQuote platform combines real-time carrier pricing with advanced research features and branded proposals. Telarus' experienced Sales staff is strategically focused on enterprise WAN and high-capacity bandwidth solutions, making it easier to find the best offer, every time. For its part, Telarus has been named the top Master Agent by the members of the Telecom Association in each of the past three years, the first and only company in the carrier channel to accomplish this feat. Whether you are a top producer or a voice-and-data expert just starting out on your own, there is a place for you in the Telarus community. For more information on the Telarus partner program, please visit call the new partner hotline at 877-346-3232 or visit us online at http://www.telarus.com/news.html, connect with us on Facebook at http://www.facebook.com/Telarus, or follow us on Twitter @telarus.