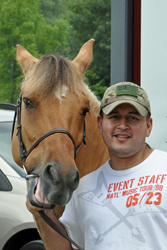 In the words of one rider, for example, "It's hard not to feel important when you're on top of a horse."
Cincinnati, OH (PRWEB) April 07, 2016
Nestled on the outskirts of Cincinnati, Cincinnati Therapeutic Riding and Horsemanship (CTRH) has been dubbed "The Miracle Farm." It consists of 19 acres of idyllic pastures that quickly transport people with disabilities into a rural setting radically different from the clinical settings that make up the rest of their demanding therapeutic regimens.
Therapy horses graze on the property, a total of 16, and there's both an indoor and outdoor arena. Programming is offered year-round, thanks to the efforts of five certified instructors, three certified therapists, and over 200 volunteers who provide 3,600 hours of service annually.
For Executive director Rob Seideman, this is the first job he has ever had where it sometimes leaves him crying, though they're tears of joy.
"For many of our riders," he said, "this is the only time they experience normal movement. Just imagine what it must feel like to move effortlessly through space without fighting uncooperative muscles. At CTRH, we see it every day, and the reaction never grows old: children just cackling with laughter!"
The therapeutic benefits that come from riding horses help people overcome both cognitive and physical challenges, but there are emotional benefits, too. In the words of one rider, for example, "It's hard not to feel important when you're on top of a horse.
"We change lives every day," Seideman said.
For over 30 years, CTRH has provided therapy to children and adults with disabilities, and now – with the introduction of wild mustangs into its programming – CTRH has begun welcoming veterans with disabilities, particularly veterans with PTSD who otherwise have no interest in traditional PTSD therapies.
While many vets with PTSD tend to shun therapy, they can't seem to sign up fast enough when presented with the challenge of gentling a wild horse. In fact, when CTRH first announced the mustang program, three local organizations signed on immediately – the Ft. Thomas VA, Veterans Justice Outreach, and the Tristate Veterans Community Alliance – and CTRH is poised to begin offering over 300 vets the opportunity to work with wild mustangs.
"I've talked with veterans who have worked with the mustangs," Seideman said, "and they're the first to tell you: 'If it weren't for the mustangs, they wouldn't have signed up for the program. And if it weren't for the program, they would have taken their own lives." It's estimated that 22 veterans commit suicide every day.
The program saves horses too. In an effort to control the population, the BLM (Bureau of Land Management) has rounded up over 50,000 wild mustangs. Those horses currently languish in holding facilities where they remain until they're adopted – at a cost to taxpayers of over $70 million per year.
"That's the real beauty of the W.O.R.T.H. program," according to Seideman, "It helps two of the most treasured symbols of the American spirit: vets and wild horses. Try not crying over that."
For more informaiton on Cincinnati Therapeutic Riding and Horsemanship, contact them at 513-831-7050 or visit their website. There are many opportunities to get involved in their programs.
Contact
Rob Seideman
Executive Director
513-831-7050