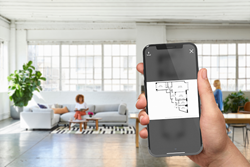 This new technology is a 10x improvement over what exists today and creates an exciting opportunity for the real estate industry to create and deliver new value for consumers not available elsewhere
SAN JOSE, Calif. (PRWEB) September 05, 2019
The real estate industry is set to benefit from a new, efficient way to digitally capture the layout and information about a property. A recent survey from the National Association of Realtors shows that the top three most important features of a listing for buyers are photography, detailed information, and a floor plan. According to Zillow, a floor plan is the 2nd most important feature on a listing and correlates highly with capturing potential leads. Traditional methods of capturing details about a listing and drafting a floor plan are slow and expensive. PropTech provider CubiCasa has introduced an innovative new technology that enables real estate professionals to capture details and a detailed floor plan of a property by simply taking a video on a mobile phone. The CubiCasa App [1] usually takes just 5 minutes and makes capturing using video easy and intuitive, with a home report and floor plan delivered within one business day.
The globally successful company has secured $1.7M in financing to accelerate the digitization of interior spaces for real estate in the US. The funding round was led by leading real estate software provider FBS and included existing investor Butterfly Ventures. The company has opened new US headquarters in San Jose, CA and extended its leadership team. Experienced technology entrepreneur Zach Shelby has joined the team as Executive Chairman together with real estate software pioneer Michael Wurzer as a non-exec Board Member.
"FBS is excited to work with CubiCasa to help make floor plans standard instead of the exception for residential real estate listings in North America. This new technology is a 10x improvement over what exists today and creates an exciting opportunity for the real estate industry to create and deliver new value for consumers not available elsewhere," says Michael Wurzer.
"I have always believed in the value of digital models of our physical world, and CubiCasa is dedicated to bringing value to real estate professionals and consumers. The real estate industry will benefit from making technology like this available and accessible to everyone, and I'm proud to help lead this amazing team," says Zach Shelby.
About CubiCasa
CubiCasa is a PropTech company focused on providing value for real estate professionals through the digitization of properties. The company has already delivered over 500,000 floor plans and is widely used by photographers, studios and real estate agents around the world. Recently, CubiCasa launched certified photographer program which proves to help to match agents with local service providers, search or join today!
[1] The CubiCasa App is currently available for the iPhone and iPad, with Android support to be introduced soon.