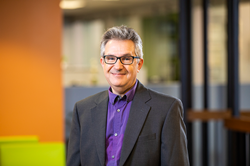 "We are looking forward to Joe taking on this strategic leadership role as we expand our reach and engineering service offerings to align with our evolving client partner needs." --Director of Operations, Joshua Inman
ORLANDO, Fla. (PRWEB) May 06, 2019
Cuhaci & Peterson Architects, Engineers and Planners has promoted Joe Keene to Senior Vice President of Engineering. Formerly Vice President of Mechanical Engineering, Keene will now oversee strategic direction and management of the firm's engineering disciplines, including Structural, Mechanical, Electrical, Plumbing and Fire Protection.
Director of Operations, Joshua Inman commented, "We are looking forward to Joe taking on this strategic leadership role as we expand our reach and engineering service offerings to align with our evolving client partner needs."
With an extensive professional portfolio under his belt, Keene, is highly experienced in complex mechanical systems engineering and carries professional registrations in multiple states. Keene has been with Cuhaci & Peterson since 2007 and is actively involved in the management of the engineering design department and helps oversee the hundreds of projects each year that progress successfully through schematic design to client move-in.
Keene, an alumnus of Hofstra University in New York, has a bachelor's degree in Engineering Science; he is also a member of the American Society of Mechanical Engineers, American Council of Engineering Companies and the American Society of Heating, Refrigerating and Air-Conditioning Engineering.
About Cuhaci & Peterson
Cuhaci & Peterson is a national A/E/P firm specializing in commercial design. Headquartered in Orlando, Florida since 1978, the firm also has offices in Philadelphia and Boston and is licensed in 49 states. Cuhaci & Peterson offers Architectural, SMEP Engineering, Fire Alarm/Protection, Lighting Design, Construction Administration, Landscape and Planning services as well as, In-House Government Relations and Interior Design on a variety of project types. http://www.c-p.com