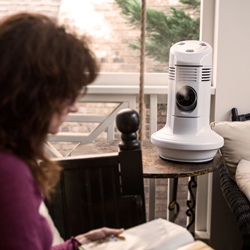 With the CULER SOLO evaporative cooler, I am saving an average of $70 to $100 a month.
CHICAGO, IL (PRWEB) March 18, 2017
CULER returns to the 2017 International Home and Housewares Show with the coolest, easiest, and most portable evaporative coolers that pay for themselves.
Evaporative coolers leverage the amazing ability of water to extract heat from the air when it evaporates, in the process reducing the temperature of the air that's projected from the units. It's the same natural process that delivers the cool air you feel when standing near a lake or ocean. CULER evaporative coolers harness this natural process to deliver huge cost savings. They're the most advanced, portable evaporative coolers in the market that use patented flash-evaporative technology to provide you with unparalleled personal cooling anywhere.
"No longer do you need to cool your entire house to stay cool in the bedroom at night, while relaxing in the living room, or preparing meals in the kitchen," says Chalin' Aswell, Director of Marketing and International Sales. "CULER's cooling units keep your personal space comfortable, allowing you to adjust your thermostat or delay using your air conditioner. This helps you consumes less energy and save more money."
When Julie Guadagno wanted to remain comfortable during the summer but reduce her high utility bills she began using a CULER SOLO around her home. "The SOLO did a great job of keeping me cool and comfortable throughout the night and because of it's size and weight I started bringing it from room to room during the day and eventually only used the A/C for a few hours a day - if at all," she says. "With the CULER SOLO evaporative cooler, I am saving an average of $70 to $100 a month."
"We're happy to announce a special promotion we're running exclusively in conjunction with the International Home and Housewares Show. For a limited time, anyone can own a CULER SOLO or DUET with 15% off the list price of new products and 20% off recertified items from March 18 to March 21. Recertified units have been retrofitted with new parts, are as good as new, and come with a 90-day warranty. Just go to https://try.culer.com/ihhs2017/ or look for the posts on Facebook, Twitter, Google+, and LinkedIn to claim your savings," shared Aswell.
CULER, based in Columbus, Ohio, will be among more than 2,200 exhibitors and over 62,000 attendees at the sold-out International Home and Housewares show in Chicago running from March 18-21, 2017.
About CULER:
CULER makes patented flash-evaporative air coolers for residential and light commercial use to enhance personal comfort and productivity, while reducing utility costs. Unmatched efficiency, remarkable portability, and low maintenance provide the foundation for industry-leading innovation. For more information, visit: http://www.culer.com or find them on Facebook, Twitter, Google+, and LinkedIn.