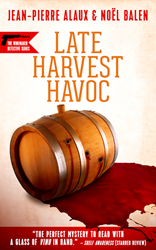 Captivating... pure enjoyment.
New York, New York (PRWEB) January 21, 2016
Mystery and thriller publisher Le French Book recently released a new book in The Winemaker Detective series, an entertaining culinary mystery series full of history and facts about France and French wine, matched with cuisine and insight into France's regions.
In Late Harvest Havoc, the beloved Winemaker Detective Benjamin Cooker adventures to Alsace, France. In this wine region, and across the border in Germany, some winemaker leave the grapes to hang on the vine until they start to dehydrate, concentrating the flavors, producing sweet wines with outstanding longevity. It's a draw for the wine expert and his assistant, but little do they know what havoc awaits them.
Winter is in the air in Alsace and local customs are sowing trouble, piquing the curiosity of the famous winemaker from Bordeaux, Benjamin Cooker. While the wine expert and his assistant Virgile settle into their hotel in the old city of Colmar, distinguished vineyards are attacked. Is it revenge? All of Alsace is in turmoil, plunged in the grip of suspicion that traces its roots back to the darkest hours of the German occupation. As he crosses back and forth into Germany from the Alsace he thought he knew so well, Cooker discovers a land of superstition, rivalry, and jealousy. Between tastings of the celebrated wines, he is drawn into the lives and intrigues of the inhabitants.
This "decadent, delicious and delightful" made-for-TV series consistently gets high praise:
"Masterful." —Star Tribune
"The Winemaker Detective series blends an immersion in French countryside, winemaking and gourmet attitude with mystery and intrigue." —Wine Industry Network Advisor
"These stories are as much a celebration of France and its well-deserved reputation for quality wines and food, as they are an exploration of finely tuned, enticing mysteries." —MyShelf.com
"You can almost smell the aroma and taste the wine in your mouth." —LibraryCat
"Each installment is unique, never formulaic, boring or predictable. Truly a reading adventure on all levels, the mystery element nothing less than sophisticated and smart." —The Discerning Reader
Late Harvest Havoc, by Jean-Pierre Alaux and Noël Balen, and translated by Sally Pane, is available wherever books are sold.
About Le French Book
Founded in 2011, Le French Book is an independent book publisher focused on bringing France's best mysteries and thrillers to new readers across the English-speaking world. For more information, please visit: http://www.lefrenchbook.com.