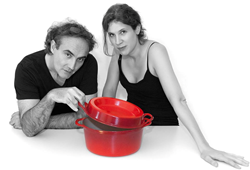 A series to devour.
New York, New York (PRWEB) October 29, 2015
Mystery and thriller publisher Le French Book will be introducing a new culinary mystery series set in France offering a well-balanced blend of gastronomy and suspense. Author Noël Balen, who pens the Winemaker Detective series, has teamed up with Vanessa Barrot and created a new female sleuth and a new series with mouth-watering excursions into the French regions, where food is paramount and meals are accompanied by betrayal, revelations and murder.
The main character, Laure Grenadier, is a food writer and restaurant critic with access to the closed world of France's top kitchens. The series combines local reality and fiction, historical fact and culinary anecdotes, recipes and local products. The authors do their research visiting restaurants and food producers around France, many of which are then included in the mysteries.
The first book in the series is set in Lyon, France's traditional capital of gourmet food, where there's eating, drinking and murder. Laure Grenadier, editor-in-chief of a Paris-based French food magazine, heads to Lyon with her photographer Paco Alvarez to review the city's traditional bistros, interview the town's best chefs, and uncover the top local food producers. Everything changes when a restaurant owner is found dead. A wave of panic follows with the second murder, and the food writer sets out to find the truth.
In the second title, Laure Grenadier goes to Normandy with Paco to eat in one of the region's finest tables, but a bout of food poisoning leads to several deaths. The whole region—from apple growers to cheese producers, Qatari horse fames and Calvados officials—is up in arms.
In the third title, a Michelin-star chef in Paris is murdered and Laure's investigation finds him to be a particularly unsavory character, and the fourth title promises deadly adventure in Périgord.
Gourmet Crimes Series in English
The series, recently published in France, is slated to come out in English starting in 2016. Praised for its dialogue and suspense, this series is "a recipe perfectly simmered to give the readers cold chills and delighted tastebuds."
The authors
Noël Balen, writer and musician, has thirty mysteries to his name, including the Winemaker Detective series, a hit book and TV series. His co-author and wife Vanessa Barrot is a corporate lawyer who comes from a family of Parisian restaurant owners.
About Le French Book
Le French Book (http://www.lefrenchbook.com) is a New York-based publisher that brings France's best mysteries and thrillers to new readers across the English-speaking world. Its motto is: "If we love it, we'll translate it."
©2015 Le French Book, Inc. All rights reserved. Information is subject to change without notice.