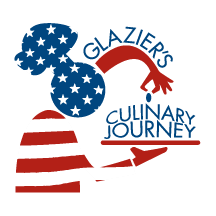 The goal is to provide something new for our customers to take back to their operation which will increase traffic, ticket averages, and profit.
Houston, TX (PRWEB) September 04, 2013
The journey of culinary exploration continues for food industry professionals looking for the latest, innovative ideas concerning food, customers, and business. Introduced by Glazier Foods Company in April 2012, the Culinary Journey is back by popular demand on September 11, 2013 from 10 a.m. to 4 p.m. at the Reliant Center Hall B in One Reliant Park in Houston, Texas. This interactive event gives restaurants the freedom to map their journey to success by sharing information that will help them prepare for their future and experience new ways of thinking about business.
"The goal of Glazier's Culinary Journey is to provide something new for our customers to take back to their operation which will increase traffic, ticket averages, and profit," said Lance Wilson, senior director of marketing at Glazier Foods. "Each year we are challenged with bringing cutting edge ideas and innovations to the table."
Restaurateurs attending the event will improve their business by building relationships with top suppliers, forming key business alliances, discovering upcoming trends, identifying new menu items, getting tips on connecting with customers and strengthening their loyalty.
At noon, Glazier will give a special salute to our country and will also host the Bob Sarvis First Responders Charity Event featuring the culinary students from Wunsche High School who will compete in a Build the Best Burger competition. The winning team will receive a donation from Glazier Foods towards a first responder's charity.
The Houston Chronicle's Top 100 Restaurants will be announced at the Culinary Journey, with the Top 10 restaurants being recognized at 2:30 pm.
Guests attending must make sure they visit Glazier Land where experts will go over business marketing plans, website and social media best practices. Guests will also get a behind-the-scenes look at Glazier's warehouse, transportation, and merchandising departments.
If you are interested in increasing traffic, ticket averages, and business profit, then don't miss this year's Culinary Journey! For more information, please visit: http://www.glazierfoods.com/CulinaryJourney3.html.
About Glazier Foods Company
Glazier Foods Company, founded in 1936, is a leading foodservice provider and one of the largest full-line independent food distributors in the nation, with more than 16,000 National Branded items in stock. They service restaurants, schools, sports & entertainment operators, daycare centers, hospitals, health care facilities and many more. Their headquarters and distribution center is located in Houston, Texas with a second distribution center in Coppell, Texas. Known for their legendary service, they continue to honor their commitment to ensure the success and satisfaction of their customers, suppliers and employees. For more information, visit http://www.glazierfoods.com/.