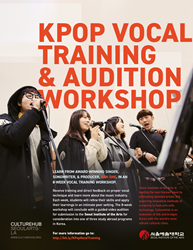 This 8-week workshop will expose aspiring artists to an intensive, specialized training program that will refine their vocal talent
Los Angeles, CA (PRWEB) March 29, 2017
Registration for the KPOP Vocal Training & Audition Workshop in Downtown Los Angeles is now open. Hosted by CultureHub LA, an organization known for its global educational programs and art & technology projects, this 8-week workshop will expose aspiring artists to an intensive, specialized training program that will refine their vocal talent.
Students will be trained by the award-winning singer, songwriter, and producer, Ann One. Week-by-week Ann One will collaborate with her students to improve their talent by sharing direct feedback and valuable insight about the music industry. In this intimate peer setting, students will build the fundamentals of proper vocal techniques, such as breath support and placement.
"Audition tapes and portfolios are a big part of applying to art schools. As part of this workshop, we wanted to provide an audition tape for each student so that they had something tangible to show for," says program director Iris Kim.
As a partner of the Seoul Institute of the Arts in South Korea, the guided audition tape provided for each student at the end of the 8-week workshop can be used to apply for one of three study abroad programs at the notable university. Famous alumni from SIA include Kpop legend, Kim Gun Mo and R&B singer Kim Bum Soo, known for the heartwarming theme song, "Bogo Shipda," from the popular K-drama, Stairway to Heaven.
Classes will take place at CultureHub LA located at Maker City in Downtown Los Angeles. Starting April 17, 2017, classes are scheduled every Monday (excluding May 29, Memorial Day) until June 12, 2017. The registration fee of $200 includes the 8-week vocal workshop and an audition video that will be filmed and edited for the student.
Auditions will take place Friday, April 21 & April 28 from 5:00 PM - 8:00 PM at Maker City as well as Friday, May 19 and May 26.
Students do not have to be enrolled in the workshop to audition. The audition-only registration fee of $60 includes a guided audition tape that will be submitted to SIA by CultureHub LA.
For more information about the Kpop Vocal Workshop & Auditions please visit http://bit.ly/KPopVocalTraining or email press(at)kcmagency(dot)com.
Seoul Institute of the Arts (SIA) is leading the next Korean wave by cultivating talented artists and exploring innovative methods of creativity to fuse arts with technology. Offering 43 majors across six Schools of Art, SIA is a three-year Associate's Degree program with a select group of students chosen for the fourth-year intensive program resulting in a Bachelor's Degree in Performing Arts.
CultureHub is an extension of the Seoul Institute of the Arts, in partnership with La MaMa Experimental Theatre Club, bridging Korea with the world's most vibrant cultural cities. Each hub presents seasonal public programming, holds artists in residencies, engages in research and development of creative technology, and creates educational programming to engage the next generation of artists and creators. Networked across New York, Los Angeles, Seoul, Korea and Spoleto, Italy, artists, educators, and students are able to collaborate globally in a fully immersive way.