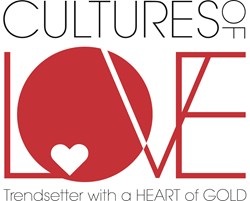 Shop by Cause, for the Trendsetter with a Heart of Gold
New York, NY (PRWEB) August 07, 2013
Cultures of Love an innovative fashion ecommerce website supporting social responsibility has officially made its debut. Giving back and making a difference takes several forms and Cultures of Love is dedicated to providing unique fashion accessories, apparel, beauty and art products that recognize charitable contributions and various other ways to give back. By making 5 promises to their customers all brands are certified by one or several of the following socially responsible badges; made in the USA, fair trade, eco friendly, making charitable contributions and buy 1, give 1.
While some companies try to brand themselves through charitable products and charities through fashionable goods, many do not succeed lacking collaboration that attracts the trendy customer. Cultures of Love sells fashion brands, beauty products and artist's work that empower customers to shop with a mission without sacrificing their style dignity. With every purchase 10% of profits are donated to charity and are also back by their 5 promises.
Cultures of Love's first charity partnership will be with Spectrum Designs Foundation, which is the first screen printer and promotional manufacturer in the USA that trains and employs teens and adults with Autism and other developmental disabilities.
Cultures of Love is the perfect marriage of fashion and philanthropy. Customers are provided with an opportunity to make a fashion statement while being an advocate for social change.
Cultures of Love CEO and Founder Evie Phillips, who has worked with companies such as Ferragamo and Karl Lagerfeld and Co-Founder Aliana Galan who has experience in fashion ecommerce agree:
"We found a niche market opportunity with the Y Generation customer and their desire to make a difference through their daily purchases. We are not just creating another brand that gives back we are creating a movement, a culture supported by great products that are on trend." - Evie Phillips.
Cultures of Love's message promotes giving back as the new black and it is time to share a common voice, the voice of love. Through their fashion ecommerce platform and innovative marketing tactics, including the first socially responsible short film #LIVE2LOVE, Cultures of Love believes we all need to have a heart for change. A heart to give, a heart of gold. Giving back has never looked so good.