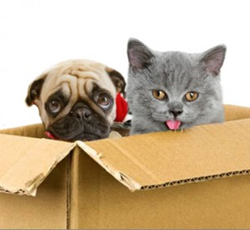 (PRWEB) January 15, 2014
Melrose Moving has released a blog offering tips for people who relocate with their pets!
Relocating with pets can be difficult. Cats, dogs and other animals require special care during transportation. They will need to be prepared for the trip and during the journey, pets should be made to feel comfortable and secured. People who travel to a different state may have to do paperwork for their pets and take care of other legal requirements.
People who need to relocate with their pets should make sure first visit a veterinary doctor. A full medical check-up is recommended before a long journey. If the animal has any medical problems, the owner should treat their pet before moving out. People should inform the veterinary doctor that they're moving and ask for any doctor recommendations. Sedatives may help pets relax if they have a long journey ahead of them.
Pets need to feel comfortable during transportation and should stay near their owners for comfort. If traveling by car and for more than one day, people should make several stops to feed their pets and allow them to rest and get some air. Dogs, for example, need plenty of exercise. Pets should be feeded after the journey ends or during breaks.
"Moving with pets can be difficult, but Culver City movers can help clients pack and transport their household items at affordable prices!" said Russell Rabichev, Marketing Director for Melrose Moving.
Melrose Moving Company is a Los Angeles-based residential and commercial moving company. Originally established in 1999, and has been so popular that the owner started various other moving companies, such as 1 Los Angeles Movers, Movers Los Angeles, and Los Angeles Commercial Movers, all of which are operated by Melrose Moving. The moving company is licensed by the Public Utility Commission (PUC), and has an A rating with the Better Business Bureau (BBB). Melrose Moving accepts cash, checks, credit cards, and Paypal.
For more information, click on http://www.culvercitymovingcompany.com. Call now: 1.800.431.3920.