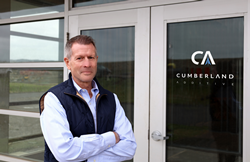 Neighborhood 91 has become a passion project for Mark as he shares his vision, "to create a truly digital manufacturing and customer experience at N91."
AUSTIN, Texas (PRWEB) May 03, 2022
Cumberland Additive has appointed Mark Straszheim to stand-up the operations at the Neighborhood 91 advanced manufacturing production campus. Mark assumes the position of Regional Director and Advanced Materials Lead, supervising the construction of the 17,000 square foot facility, managing the installation of new advanced manufacturing equipment, and leading the organization's day to day sustainable operations.
Mark comes to the Cumberland leadership team with a background in materials science and engineering, with a strong emphasis on commercial and operational expertise. Neighborhood 91 has become a passion project for Mark as he shares his vision, "to create a truly digital manufacturing and customer experience at N91." The team is finalizing design and construction details and making progress to complete the office and manufacturing space within the next few months.
While headquartered in Pflugerville, TX, Cumberland Additive has strong roots in the Pittsburgh region. Company chairperson Dawne Hickton herself a native of Pittsburgh, immediately saw the value of establishing a second location in the area, especially when considering its strong manufacturing culture and workforce; "this location, with its proximity to Pittsburgh International Airport, along with a skilled workforce coming from world class educational institutions, will provide our customers with tremendous value in facing supply chain challenges by reducing lead times and producing quality parts."
Cumberland Additive is an established force in the AM industry, offering series production of parts and engineering design services in both metals and polymer materials using the Powder Bed Fusion technology. Both locations will continue to serve major markets such as aerospace, defense, space, energy, and nuclear.
The company expects to be operational at Neighborhood 91 by the end of Q2. They have already taken delivery of an SLM®500 system and a HAAS UMC-1000, providing end to end solutions in metal additive manufacturing using titanium, aluminum, and nickel alloys. Cumberland will be exhibiting at RAPID May 17-19. You will find Mark and other team members at Booth 1446.
About Cumberland Additive
Cumberland Additive, Inc. began as Directed Manufacturing, Inc. in 2006. The company achieved steady growth throughout multiple markets, expanding capabilities from plastic prototyping to serial production of metals and polymers. Under new ownership as of May 31, 2019, Cumberland Additive is showcasing our expertise in additive manufacturing, providing engineering services and turn-key production using Powder Bed Fusion Technology in metals and advanced polymers. Cumberland is advancing 3D Printing by building trust with our partners through proven additive manufacturing experience, and a laser focus on technical data that is supported by repeatable quality and on-time delivery. Learn more at CumberlandAdditive.com
About Neighborhood 91
Neighborhood 91 is the first development in the world to both condense and connect all components of the additive manufacturing and 3D printing supply chain into one powerful production ecosystem. Located adjacent to the runways at Pittsburgh International Airport, Neighborhood 91 is an additive manufacturing production center at the 195-acre Pittsburgh Airport Innovation Campus. Learn more at Neighborhood91.com