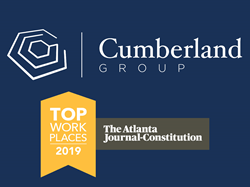 ATLANTA (PRWEB) March 03, 2019
Cumberland Group announced today it is a Top 10 Atlanta-area employer, ranking seventh overall in the Atlanta Journal Constitution's 2019 Top Workplaces report. This marks the second year in a row the 4-year-old IT consultancy has made the annual list within the small company division, designated as those with 149 or fewer employees.
The Top Workplaces list, now in its ninth year and administered by Energage LLC, is based solely on the results of an employee feedback survey measuring workplace culture. More than 48,000 metro employees participated in the survey, which evaluated 4,343 companies this year. Of that list, 255 were surveyed and the final 150 rankings were compiled from those results.
"Creating a culture that's professionally fulfilling for our employees is the first step in good business, because it's happy employees who produce the best results for clients," said Ken Snuggs, Cumberland Group's CEO and co-founder. "This award means that even as we've grown, we're staying true to our values, hiring people who are accountable and embrace the rewards of autonomy. I'm proud of that and our entire team."
The survey gathers responses to 24 factors covering seven areas, including organizational health factors relating to workplace culture. Employee engagement, company leadership and basics, like pay, benefits and flexibility are among the aspects the survey assesses.
"Top Workplaces is more than just recognition," said Doug Claffey, CEO of Energage. "Our research shows organizations that earn the award attract better talent, experience lower turnover, and are better equipped to deliver bottom-line results. Their leaders prioritize and carefully craft a healthy workplace culture that supports employee engagement."
The Atlanta Journal-Constitution published the complete list of 2019 Top Workplaces in Atlanta. More information about the list is available here.
About Cumberland Group
Based in Atlanta, Ga., Cumberland Group is the advisory and services firm companies turn to when their technology can't keep up with today's demands. We sit at the intersection of management consulting firms, technology manufacturers, VARS, and system integrators—a vantage that provides a broad perspective as we guide organizations making critical decisions for immediate improvement and long-term business goals. Our advice is tailored to our clients' goals; our integration, customized to their needs; and our solutions are developed specifically for their challenges. From strategic planning to precision execution, we do whatever it takes to help them prepare for whatever's next. Our combination of fresh perspective, deep resources, and turn-on-a-dime flexibility is why leading companies partner with Cumberland Group for their most challenging IT initiatives.