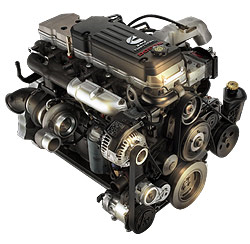 Partners have been added and deleted this year to maximize our potential in the used engines industry for consumers.
Bristol, Virginia (PRWEB) August 22, 2013
The Cummins company produces multiple types of engines used in the auto industry primarily for Dodge trucks. The http://gotdieselengines.com company is now adding Cummins diesel used engines inside its growing inventory of motors. These 5.9 series engines are providing one easy way online that truck owners can access above average engine types for sale.
The 5.9 series engines in V8 size are one of the popular types of motors used for the Ram pickup truck series.
The pairing of this exclusive engine with the Dodge series of trucks has resulted in higher sales for Chrysler as well as a larger customer base of truck owners in the U.S.
"Our position in the auto industry has expanded since 2009 and we're now a large source to find diesel motors of all types online," a warehouse controller for the Got Diesel Engines company said. The developments made by this company in 2013 has improved the size of the offered inventory for sale.
The used Cummins 5.9 engines that are offered now share the inventory space with the smaller series motors in the Ram truck series. The 5.2 and other editions now exist for direct consumer sale online. These engines are now acquired by company staff through distribution companies handling Cummins sales.
"Partners have been added and deleted this year to maximize our potential in the used engines industry for consumers," the controller confirmed. Enhancements made to the online search systems used by this company have perfected the way that engines are located in the existing inventory.
This digital search system links the inventory held offline with what is displayed online. Consumers researching Dodge engines or other brands in stock receive immediate price comparison data and warranty details. This information used to be reserved for offline contact with company representatives.
These easier online search tools for used diesel engines have removed most of the research to find replacement engines through the company website.
About GotDieselEngines.com
The GotDieselEngines.com company supplies previously owned engines directly to consumers for prices that are under MSRP in North America. The buying patterns used by this company have resulted in better quality inventory acquired for consumer sale. The GotDieselEngines.com specialists adhere to a specific set of standards when purchasing replacement engines from distributors or trusted third parties. These quality control measures have increased the value and performance that is coupled with all diesel engines in stock. Standard price information and limited warranty details can be obtained through the toll-free telephone number or online quote system now installed online.