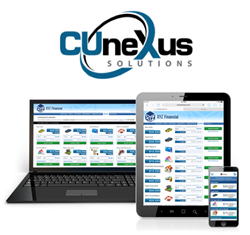 When we watched the demo of the CUneXus platform we were instantly hooked! It was like going from black-and-white to color.
Santa Rosa, CA (PRWEB) August 21, 2014
CUneXus Solutions has announced unprecedented results achieved just 90 days following the launch of their cplXpress lending platform at $2.2 billion Educational Employees Credit Union (EECU). During the program's initial 3-month period, EECU processed over $24.5M in loan requests, nearly doubling its loan volume and earning over three times the loan revenue compared to the previous year.
Officially released at the renowned Finovate financial technology showcase in April, CUneXus' Comprehensive Pre-Screened Lending (CPL) strategy was developed to help banks and credit unions maximize loan volume and ROI across their entire loan portfolio. The company's cplXpress loan generation engine processes multiple data streams from the lender's database and from the credit bureau to generate highly-personalized sets of pre-approved offers that are unique to each lender's risk tolerance and portfolio. The platform then manages the simultaneous communication of these offers across all available channels including online banking, mobile banking, direct mail, email, and within the branch and call center, offering a consistent and more engaging customer experience with simple, "one-click access" at all touchpoints.
One of CUneXus' early pilot clients, Educational Employees Credit Union (EECU) located in Fresno, California, serves a membership of nearly 230,000, making it one of the largest credit unions in the United States. It's a growing credit union but faces increased competition in an economic recovery period from other lending organizations for the same consumers. Consequently, maintaining customer loyalty and efficiently growing its loan portfolio are top priorities.
EECU launched the program to 31,000 credit union members in the second quarter, and cplXpress was profitable within seven days. The revolutionary multi-product and multi-channel pre-screened lending approach increased EECU's average revenue per accepted loan offer by over 70 percent. The overall revenue gained from the campaign almost tripled that of a loan campaign during the same period of the previous year. EECU realized ROI of more than 363 percent with a 50 percent decrease in acquisition cost per loan.
Other highlights of the CUneXus and EECU case study include:
—1,158 Auto, Visa and overdraft loans generated
—$24.5 million in total loan requests
—$4.3 million in incremental loans (and no additional marketing costs)
—3.76 percent direct response rate
—24 percent increase in ROI over previous year
Educational Employees Credit Union is now running CPL-driven pre-approvals quarterly and looking to include additional loan offers as well. CUneXus is also working with EECU to introduce additional features this fall, including online banking enhancements and integrated access to loan offers within the credit union's Digital Insight mobile banking app.
Michelle Hernandez, Communications Director at EECU, said: "When we watched the demo of the CUneXus platform we were instantly hooked! It was like going from black-and-white to color. Our loan pre-approvals have always been through snail mail, but now with cplXpress we can leverage our online banking, email, and mobile channels too. Our first loan pre-approval campaign using CUneXus was a huge success, and we're looking forward to brainstorming with them in the future concerning other lending opportunities."
About CUneXus Solutions
CUneXus Solutions develops leading edge financial technology software products and omni-channel marketing solutions that improve the efficiency of transactions between individuals and lending institutions. Based in Northern California, the CUneXus leadership team has over 60 years combined experience in the consumer financial services industry, with expertise in marketing, market research, sales, database management, and software development. Since, the December 2013 debut of their cplXpress product, CUneXus has received awards and accolades on several fronts for fin-tech innovation, including being selected to present at FinovateSpring 2014, being selected as a winner of the 2014 DEMOvation Challenge presented by Bank Innovation, and being selected as a semifinalist in the Innotribe Startup Challenge 2014. Click to view CUneXus' Finovate presentation.