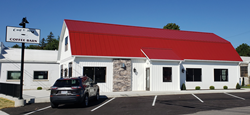 "I don't think I would have had a clue how to open a coffee business without Crimson Cup." – Stephanie Walkup, Cup O' Joy Coffee Barn
COLUMBUS, Ohio (PRWEB) October 15, 2021
With the opening of Cup O' Joy Coffee Barn, Stephanie Walkup realized a dream that had been brewing in her heart for six years.
"I was a nurse, then a stay-at-home mom with our four children," she said. "Our youngest just entered kindergarten, opening up time for me to pursue my dream."
Although she loves coffee and the atmosphere of coffee shops – where people come together, hang out, play games and talk – Stephanie lacked coffee experience.
She and husband Shea Walkup, an Edgerton Dentist, learned how to open their new coffee shop after a Google search led them to award-winning roaster Crimson Cup Coffee & Tea.
Their first step was ordering Seven Steps to Success: a Common-sense Guide to Succeed in Specialty Coffee by Founder and President Greg Ubert.
"We read Crimson Cup's story, then came and visited their Columbus headquarters and saw how impressive their facilities were," Stephanie said.
"I loved how their Friend2Farmer program works and was impressed with Coffee Buyer Dave Eldridge and his travels around the globe to build relationships with farmers."
The couple then signed up for Crimson Cup's 7 Steps to Success coffee shop startup program. This proven system turns entrepreneurs with little or no coffee experience into owners of thriving coffee shops.
To date, over 300 entrepreneurs in 30 states have followed the 7 Steps to create profitable coffee shops.
"We're excited to welcome Stephanie and Shea as 7 Steps customers," Greg said. "Each new local coffee shop adds impact to The Ripple Effect, a focus on good that spreads from our actions to small businesses and communities around the world."
Crimson Cup coffee shop startup consultants guided the couple step by step, from writing their coffee shop business plan to choosing equipment, hiring and training employees and more.
They demolished a dilapidated house and small building on the north side of Vine Street in Edgerton to make way for the new shop, styled as a white coffee barn with a red roof, spacious seating inside and a convenient drive-thru for coffee lovers on the go.
7 Steps Trainer and Project Manager Steve Bayless helped lay out the shop, then traveled to Edgerton the week before the shop opened.
There, he taught Stephanie and her baristas to prepare drinks and run Cup O' Joy, staying through opening day to ensure everything ran well.
"I don't think I would have had a clue how to open a coffee business without Crimson Cup," Stephanie said.
"We would like Steve to stay for a few more weeks! From the build out through opening day, he's been on it, responding to our questions and giving us the knowledge, we need to be successful."
A one-stop shop for independent coffee shops, Crimson Cup supplies award-winning coffee, coffee business expertise, hands-on training and industry-leading coffee shop supplies.
Stephanie found Step 5, Focus on Training, the most valuable of the 7 Steps.
"I don't know how people do this without getting someone to help," she said. "Step 2, Focus on Efficiency of Layout, was super helpful, too!"
Asked what she would say to others who are thinking about opening a coffee shop, Stephanie offered this advice:
"Be prepared for all that comes with owning and running a business. Owning a coffee shop is way different from going into a coffee shop as a customer. I love to serve and this is definitely a great service."
Inside Cup O' Joy, guests enjoy a full menu of hot, cold and iced espresso-based drinks in a warm atmosphere with plenty of seating. A drive-thru caters to coffee lovers on the go.
In its first few days, the shop won an enthusiastic welcome from new customers. Several called out the signature drink, Cup O' Joy Mocha, which melds white chocolate with espresso and a caramel drizzle.
"Absolutely LOVE the Cup of Joy Mocha...hot or iced!" said one Facebook reviewer. "Beautiful building & welcoming atmosphere. Definitely worth stopping by!"
The coffee, roasted by Crimson Cup, ranks among the best in the nation. Among other honors, the roaster won 2020 and 2017 Good Food Awards, which recognize the country's best-tasting and most sustainably sourced coffees.
The Walkups invite everyone in Williams County, Northwest Ohio and beyond to visit Cup O' Joy Coffee Barn at 108 West Vine Street in Edgerton.
Follow the shop's Facebook page for news about hours and upcoming grand opening celebrations.
About Crimson Cup Coffee & Tea
Columbus, Ohio coffee roaster Crimson Cup Coffee & Tea is celebrating 30 years of Coffee + Community. Since May 1991, Crimson Cup has roasted sustainably sourced craft coffee for consumers and wholesale coffee customers. It is a 2020 Good Food Award winner, 2019 Golden Bean Champion for Small Franchise/Chain Roaster and Roast magazine's 2016 Macro Roaster of the Year.
Through its 7 Steps to Success coffee franchise alternative program, the company teaches entrepreneurs to run independent coffee houses in their local communities. By developing a coffee shop business plan, entrepreneurs gain insight into how much it costs to open a coffee shop.
Crimson Cup also supports life-enriching projects through its Friend2Farmer® initiatives, promoting the education, health, sustainability and economic growth of small-plot coffee farmers and their communities.
Crimson Cup coffee is available through over 350 independent coffee houses, grocers, college and universities, restaurants and food service operations across 30 states, Guam and Bangladesh. The company also operates several Crimson Cup Coffee Houses and a new Crimson retail flagship store. To learn more, visit crimsoncup.com, or follow the company on Facebook and Instagram.