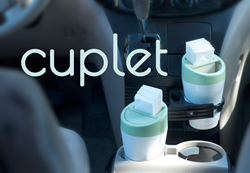 By manufacturing Cuplet in the USA we strive to be sustainably mindful.
SAN JOSE, Calif. (PRWEB) June 14, 2017
Cuplet is a patented car accessory that securely fits in a standard-size cup holder to hold a pocket-sized facial tissue pack, stores waste and help dispose of the waste easily. Each Cuplet is made in the USA and crafted from post-consumer waste, HDPE plastic, which is made from recycled milk jugs. The team launched Cuplet on Kickstarter today with hopes to raise $30K from backers.
"By manufacturing Cuplet in the USA we strive to be sustainably mindful. Domestic manufacturing helps reduce greenhouse gases and transportation costs and pollution. The use of 100% recycled plastic helps divert material from our landfills, saves energy and reduces the carbon footprint." according to Jannat Saxena, designer of Cuplet. "We're excited to present Cuplet to the Kickstarter community and have them help bring our idea to market."
Tissue holders on the market tend to be bulky and unsecured when placed in a vehicle. Additionally, there are very few tissue holders on the market that conveniently fit into a car's cup holder. With Cuplet's unique and aesthetically-pleasing design, users can not only hold their tissue, but also easily toss their waste making disposal clean and mess-free.
Cuplet is available in two designs. The Coverlet offers users the option of a lid, which hides the trash and keeps it out of sight. The Coverless design comes without the lid and allows you to overfill. Both designs fit in a standard-sized cup holder and measure at about 8" by 5" by 5".
Cuplet launched on Kickstarter today. The team is hoping to raise $30K to help produce and manufacture Cuplet on a large-scale. Backers may choose from the Coverlet or Coverless design in a beautiful seafoam green color. Cuplet is available starting at only $17. For more information, visit the campaign at bit.ly/CupletKS.
About Cuplet
Cuplet is a startup based in California. The company recently introduced its first product, Cuplet, on Kickstarter. Cuplet is a recyclable, multifunctional car accessory for consumers. For more information on Cuplet, visit their campaign at bit.ly/CupletKS.