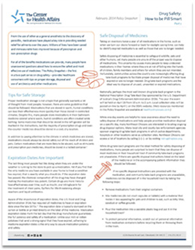 Cleveland, Ohio (PRWEB) March 31, 2014
While medications provide essential relief to many in need – including cancer patients, mothers in labor, and children with fractured bones – the downside is that they can also be abused. Curbing drug abuse has taken on heightened importance across the state and right here in Northeast Ohio as the number of unintentional drug deaths has continued to climb.
In this month's Policy Snapshot - Drug Safety: – The Dark Side of Pills – the second in a two-part series on drug safety - we explore inappropriate use of drugs and some of the supply chains that are contributing to the problem. Efforts by advocates, healthcare providers, lawmakers, and pharmacies to attack prescription drug abuse and curb the heroin epidemic are also examined.
A full list of The Center's publications can be found on the website along with a wide range of resources covering a variety of health policy issues.
###
As the leading advocate for Northeast Ohio hospitals, The Center for Health Affairs provides members with vital services and resources aimed at enhancing the region's healthcare community. The Center delivers on this goal by focusing its efforts on areas that benefit from a regional approach: Healthcare Workforce; Emergency Preparedness; Public Policy & Advocacy; Finance & Reimbursement; and Community Initiatives. With a rich history as the Northeast Ohio hospital association, dating back to 1916, The Center serves as the collective voice of hospitals and the source for Northeast Ohio hospital and healthcare information. As leaders, we continuously scan the periphery, looking for opportunities to enhance the region's workforce, better prepare our hospitals for an emergency, and increase the region's wage index. And because of our business affiliation with CHAMPS Healthcare, we have the resources to provide a broad level of professional services to our members. The Center, located in downtown Cleveland, is proud to advocate on behalf of 38 acute-care hospitals and two long-term acute-care hospitals in six counties. For more, visit chanet.org.