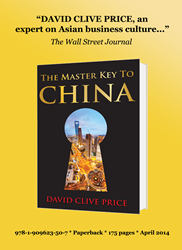 This JV will provide clients with solutions & insights for for the greater picture of Southeast Asia
London, UK (PRWEB UK) 26 November 2014
The new joint venture agreement combines the business culture and revenue growth expertise of David Clive Price with the industry information and market entry solutions of Shanghai-based Curimagine to provide comprehensive support for companies entering and developing their business in Southeast Asia markets.
David Clive Price has a long track record of helping both Western and Asian companies succeed in Asia by implementing a culturally appropriate business model. With the signing of this agreement, China-based Curimagine will join forces with David Clive Price to offer clients highly informed solutions and global synergies for successful business expansion in Asia and Europe.
Alan Chen is a business consultant with ten years' experience in Europe prior to founding Curimagine. His company provides executable solutions and reliable industry information for market entry consultation, Asia market sizing, cross benchmarking, and business model feasibility. Currently, the company covers a wide range of Asian countries such as China, Vietnam, Thailand, Singapore, India, Taiwan, Philippines, Malaysia, Japan, and South Korea.
"I hope this agreement will establish further support for UK companies seeking to do business with China, helping them to fulfill their growth aspirations with on-the-ground advice, rich market information and informed solutions," said Alan.
David Clive Price is an Asian business culture expert with 25 years' experience of helping major corporates and entrepreneurs launch and expand their business in Asian markets. His innovative strategic business model entitled "International Business Passport" offers a highly targeted approach to optimizing global business operations and building brand recognition in new markets.
"I believe this joint venture will benefit mutual business exchange between UK and China," said David. "And in particular, it will provide clients with insights and solutions for the greater picture – Southeast Asia – and the unexplored territories of future prosperity."
ABOUT DAVID CLIVE PRICE
With 25 years' experience of Asia business, David Clive Price helps Western companies, SMEs and entrepreneurs to launch and expand in Asian markets. His "International Business Passport" consulting packages and bestselling Master Key Series offer proven strategies for building profitable partnerships and gaining competitive advantage through strategic cultural intelligence.