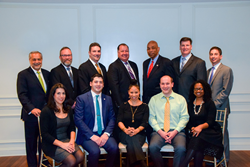 This team merges experienced executives with renowned researchers and physicians to provide innovative healthcare solutions backed by best-in-class practices and products.
Baltimore, MD (PRWEB) March 29, 2017
Curio Wellness, a premium medical cannabis brand and trusted healthcare partner in Maryland, is proud to announce the finalization of the company's executive management team with prominent executives from both inside and outside the cannabis industry.
Joining the team and leading operations is Curio Wellness' Chief Operating Officer, Ted Dumbauld, who has more than twenty years of business leadership and investment experience in a diverse set of industries, including nuclear power, asset management, technology, and medical cannabis. Dumbauld's immediate focus will be on assuring operational excellence in the startup, inculcating lean management process into its operations, ensuring compliance with operational/regulatory requirements, implementing operating systems, and assisting in the final design and construction of a GMP-compliant, medical-grade cannabis cultivation and processing facility. Most recently, Dumbauld invested in and became the CEO of Curaleaf, a medical cannabis company in Connecticut. There he turned an under-performing facility into a profitable and market-leading operation with sustained revenue growth exceeding 10 percent per month.
"Premium products are born from the efforts of premium talent. Our distinguished executive management team brings to Curio Wellness extensive experience in their respective fields, reinforced by degrees from the nation's top educational institutions," said Michael Bronfein, CEO of Curio Wellness. "This team merges experienced executives with renowned researchers and physicians to provide innovative healthcare solutions backed by best-in-class practices and products."
"Curio Wellness seeks to set the standard for quality, reliable medical cannabis in the state of Maryland," Bronfein continued.
"I've seen first-hand too many friends and classmates suffer from debilitating post-traumatic stress disorder," said Dumbauld, a U.S. Naval Academy graduate and veteran of the U.S. military. "I am proud to be able to help bring to market products that will provide unprecedented relief to so many patients suffering from chronic illnesses."
Joining Dumbauld as new additions to the executive management team are Brad Friedlander, Chief Financial Officer, and Doug DeLeaver, Director of Security. Friedlander has a diverse background in accounting, finance, information technology, and operations. He most recently served as General Manager at InnerWorkings and Chief Information Officer for Lightning Golf & Promotions, Inc., where he helped orchestrate the sale of the company to InnerWorkings. Douglas DeLeaver has over 40 years of experience as a Law Enforcement Officer in the State of Maryland and served in top leadership positions including Chief of Maryland Transit, Superintendent of Maryland Natural Resources, Deputy Chief of Maryland Transportation Authority and Retired Commander Maryland State Police. Additionally, DeLeaver served as President of the National Organization of Black Law Enforcement Executives, as well as the President of Maryland Chiefs Association in 2007.
Rounding out the executive management team are new hires Chris Holshouser, Director of Cultivation Operations, and Lee Williams, Director of Human Resources. Holshouser brings 20 years of experience in the greenhouse industry, most recently serving as head grower for Metrolina Greenhouses, the largest single-site, heated greenhouse in the U.S. supplying major chains including Lowes and Walmart. Holshouser has extensive experience in manipulating growing environments, environmental control strategies, production planning, crop scheduling, and personnel management, all resulting in consistently high quality large-scale production. Williams joins Curio Wellness with 16 years of experience in employee recruitment and retention, staff development, conflict resolution, benefits, compensation, human resources records management, policies development, and legal compliance with major corporations including Domino Sugar, DHL, and Sears. A member of the Society for Human Resource Management (SHRM), Williams holds a SHRM-CP certification, which recognizes expertise and leadership in the HR field.
To view the full executive management team and for more information on Curio Wellness, please visit http://curiowellness.com/.
About Curio Wellness
Curio Wellness is an emerging medical cannabis brand and trusted healthcare partner. We are a bold new voice in the quest for wellness - providing a growing patient population with a much-needed natural treatment for a vast number of disease states. Led by a proven & experienced executive team, our approach is rooted in science, complemented by strategic partnerships and centered on superior patient care.