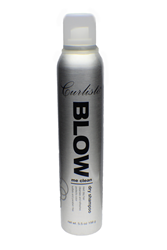 Christo Proudly Introduces Curlisto® 'Blow Me Clean Dry Shampoo'
New York, NY (PRWEB) February 17, 2015
Curlisto introduces Blow Me Clean Dry Shampoo, the ideal dry shampoo for women on the go. Blow Me Clean refreshes hair while neutralizing odors by absorbing excess sebum and build-up. It rejuvenates hair, adds volume, and ultimately creates a long lasting look. No matter what hair type, this is the perfect on the spot solution.
"The woman of today is often so busy that she may not have enough time to wash her hair. We're here to help her in her quest for a quick fix," says Christo, Global Artistic Director of Curlisto® products and Christo Fifth Avenue Salon. "We created this for every woman: from independent mothers, to dedicated business women, with the hope that she can not only look her best, but also feel her best."
Directions for use:
Don't be afraid to overuse! For the best oil absorption, section hair and spray each section at the root, holding 6-8" away. Blast the hair at the root to banish any residue. Apply the spray at night to let the dry shampoo absorb oil overnight before roots get oily.
Prices and Sizes:
5.5oz- $28
Availability:
Christo Fifth Avenue (35 W45 St, 3rd fl, NY 10036)
(212) 997-8810 or http://www.curlisto.com
Contact:
Natalie Lin
PR Manager
Natalielin@christonyc.com
Phone: 212-997-8810
Social Presence:
Twitter- https://twitter.com/ChristoFifthAve
Facebook - https://www.facebook.com/ChristoFifthAvenue