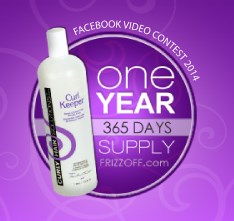 (PRWEB) January 07, 2014
Toronto's leading curl experts, Curly Hair Solutions™, is thrilled to present the 4th annual Win a Year Supply of Curl Keeper™ Contest on Facebook. From January 6th - 31st, 2014, new and existing fans can create short videos outlining their New Year's Curl Resolution, whether it's sharing curly hair woes or wishes for the perfect cut or colour and submitting the video link on Curly Hair Solution's Facebook Page at http://www.facebook.com/FrizzOff for a chance to win a full year's worth of the company's signature product, Curl Keeper™.
Videos links can be submitted to Facebook from YouTube, Vine or Instagram, and should be 45-seconds in length or less. Once videos are posted to Facebook, users are encouraged to share their video with friends and family to generate votes. The person with the most votes for their video will be declared the winner on February 3rd, 2014.
How to Enter Contest:
1. 'Like' Curly Hair Solutions' Facebook Page and create a short video, 45-seconds in length or less, describing your New Year's Hair Resolution for your naturally curly hair. The video doesn't need to be professionally filmed - use a video camera or phone and keep it simple.
2. Submit the link of your video along with your email address between January 6 and 31, 2014.
3. Spread the word! Share the video online and get as many people as possible to vote for your video.
4. On Monday February 3, 2014 the video with the most votes will be announced as the winner. Good luck!
Contest rules:
1. One video per entry. Inappropriate videos will be deleted and users will be blocked from Curly Hair Solutions' Facebook page and ineligible from entering the contest.
2. The contest is open to North American consumers.
3. The grand prize consists of 1-year supply of Curl Keeper: 12 Curl Keeper 33.8oz/1000ml. A secondary prize of 6-months supply of Curl Keeper: 6 Curl Keeper 33.8oz/1000ml will be awarded to the person with the second-most votes. For more information about Curl Keeper, visit http://www.frizzoff.com.
About Curly Hair Solutions: Curly Hair Solutions™ curly hair products perform 100% of the time, on every curly head, in all weather conditions, without the use of silicones. Our ingredients are natural, biodegradable and are not tested on animals. Our products have been perfectly pH balanced to match our environment to our bodies resulting in healthier, shinier, and a more controllable result every time. For more information, visit http://www.frizzoff.com.