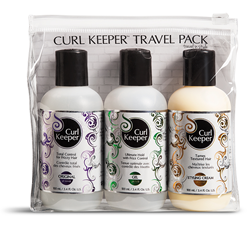 Toronto, ON (PRWEB) March 03, 2015
Curly Hair Solutions™ is thrilled to introduce its new Curl Keeper™ Travel Pack. The airplane-safe kit consists of the Curl Keeper™ Original, Gel and Styling Cream. These three curl taming products come in a stylish, high-end cosmetic bag and are packaged in handy 3oz/100ml bottles – perfect for traveling in style. Just in time for March Break, this travel kit will ensure curls are taken to the next level while achieving frizz control, softness, and shine. This trio of tress tamers will stand up to any weather condition, working hard on your vacation, keeping curls under control so you don't have to.
The all-new Curl Keeper™ Travel Pack offers styling products for all curl types, and is the only travel kit that will make your hair the envy of the entire curly world.
The New Curl Keeper™ Travel Pack consists of:
Curl Keeper™ Original – This award-winning styling product offers total control for frizzy hair. Curl Keeper™ Original is a water-based formula, which means it can be used every day without product buildup. It is 100% effective in all weather conditions, especially humidity, allowing hairstyles to last for days.
Curl Keeper™ Gel – Conquer your style and get the most outstanding hold for several days. Without a curl out of place, have style support and frizz control in humidity as Curl Keeper Gel reactivates with water.
Curl Keeper™ Styling Cream - Spice up your curls and get unbelievable styling satisfaction having total frizz control with unmatched shine and softness. This triple threat product will allow you to be the start of the show no matter where you go.
Curl Keeper™ Travel Pack retails for $22. To learn more about the new kit and the Curly Hair Solutions™ full line of products, visit http://www.frizzoff.com.
About Curly Hair Solutions: Curly Hair Solutions™ curly hair products perform 100% of the time, on every curly head, in all weather conditions, without the use of silicones. Our ingredients are natural, biodegradable and are not tested on animals. Our products have been perfectly pH balanced to match our environment to our bodies resulting in a healthier, shinier, and more controllable result every time.