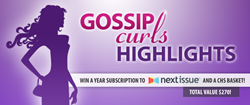 (PRWEB) June 18, 2014
Curly Hair Solutions™ is thrilled to celebrate the one-year anniversary of their blog, Gossip Curls, a site all about the lifestyles of different women with different curls. To mark the occasion, they're offering all curlies the chance to win a one-year subscription to Next Issue—to help them keep up with the latest gossip in hundreds of magazines—plus, a $150 CHS Gift Basket. From June 17-June 30, fans can enter the Gossip Curls Highlights Contest by 'liking' the Curly Hair Solutions™ Facebook Page at http://www.facebook.com/FrizzOff and voting for their favourite Gossip Curls article in a poll. The total prize value is $270 and the winner will be selected at random and announced on July 2, 2014.
Gossip Curls focuses on styling tips for all curl types, products, in-depth makeovers, informative discussions and the recently launched video series, Curl Confessions. Now in its second season, the video series features Jonathan Torch, the creator of Curly Hair Solutions™, and his team of expert stylists from the Curly Hair Institute, as they provide solutions to the most talked about hair issues—like frizz control and the best styling techniques for curly hair.
At its heart, Gossip Curls is a community-based blog designed to educate and engage curly hair readers and provide them with helpful tips and information, encouraging them to share their own experiences with others. By featuring content from curly haired writers who have all different curl types, Gossip Curls reaches a large curly hair demographic with all curl types, textures, and patterns, helping each reader embrace and love their natural curls. Check out the Gossip Curls blog and view the latest Curl Confessions videos at http://www.gossipcurls.com.
About Curly Hair Solutions: Curly Hair Solutions™ curly hair products perform 100% of the time, on every curly head, in all weather conditions, without the use of silicones. Our ingredients are natural, biodegradable and are not tested on animals. Our products have been perfectly pH balanced to match our environment to our bodies resulting in a healthier, shinier, and more controllable result every time. For more information, visit frizzoff.com.