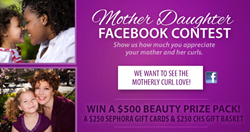 Toronto, ON (PRWEB) May 06, 2014
Curly Hair Solutions want to see the love and the curls as it presents the Mother/Daughter Facebook Contest just in time for Mother's Day! From May 1 – May 30, 2014, Facebook fans and their mother's can share photos of themselves and their fabulous curls by posting them on the Curly Hair Solutions Facebook Page at facebook.com/FrizzOff/app_451684954848385 for a chance to win a CHS beauty prize pack valued at $500.
Starting May 1st at 9am EST, Curly Hair Solutions Facebook fans can upload their Mother/Daughter curl photo. Once the photo is posted, they're encouraged to share it with family and friends to get 'Votes'. The photo with the most 'Votes' will be declared the winner. The contest ends on May 30th at 5pm EST and the winner will be announced on June 2, 2014.
Contest Rules:
1. Must be a resident of North America, 18 years or older.
2. Email address must be valid.
3. Only one photo per person.
4. Inappropriate photos will be deleted from the Curly Hair Solutions™ Facebook page and the contestant will be eliminated from the contest.
5. Contestants are allowed to 'share' their photos to gain more "Likes" in order for a chance to win as long as it is done through Facebook.
6. The $500 beauty prize pack includes a $250 Sephora Gift Card and $250 Curly Hair Solutions Gift Basket filled with products and accessories.
About Curly Hair Solutions: Curly Hair Solutions™ curly hair product s perform 100% of the time, on every curly head, in all weather conditions, without the use of silicones. Our ingredients are natural, biodegradable and are not tested on animals. Our products have been perfectly pH balanced to match our environment to our bodies resulting in healthier, shinier, and a more controllable result every time. For more information, visit http://www.frizzoff.com.