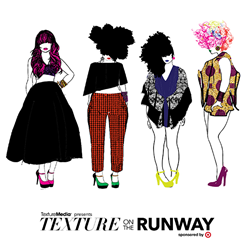 Toronto, ON (PRWEB) February 04, 2016
Curly Hair Solutions® is honoured to participate in this year's Texture on the Runaway event hosted by Texture Media and their leading retail partner, Target. Texture on the Runway is a unique opportunity for texture brands to showcase their products to some of the world's most influential hair heavy weights (Bloggers, Vloggers, Instagrammers, etc.). The event takes place during Fashion Week in the heart of New York City, and is a chance for brands to set the stage for trends to come and connect directly with powerful social media contacts and beauty editors alike.
Curly Hair Solutions® will have a showcase table at the event allowing them to show not just tell the fashion world how their products work wonders on all textured hair types. From the latest trends to timeless curly hairstyles, the Curly Hair Solutions® team will demonstrate how to get beautifying results from their top products. Jonathan Torch, founder of Curly Hair Solutions®, and textured hair aficionado will reveal textured hair tips and tricks along with thorough product demos throughout the event.
Curly Hair Solutions® products making their way into the swag bags for media attendees to enjoy are… the renowned Curl Keeper® Original and the popular Curl Keeper® Styling Cream. Both products along with the Curl Keeper® Gel, Leave-in Conditioner, and Slip Detangler are now also available in Target stores throughout the U.S. Curl Keeper® Original enables curlies to master those gorgeous frizz-free curls without the risk of dryness or flakiness. Performing 100% of the time in all weather conditions this award-winning product will surely be cause to blog about. The entire CHS team couldn't foresee a better way to kick off 2016 than this opportunity to connect and network with hair industry innovators from around the globe!
For more information about Curly Hair Solutions™ full line of hair care products including the Curl Keeper™ collection, visit http://www.frizzoff.com.
About Curly Hair Solutions: Curly Hair Solutions® and Curl Keeper® Styling Collection are curly hair products that perform 100% of the time, on every curly head, in all weather conditions, without the use of silicones. Our ingredients are natural, biodegradable and are not tested on animals. Our products have been perfectly pH balanced to match our environment to our bodies resulting in a healthier, shinier, and more controllable result every time.