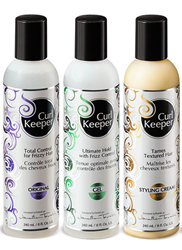 (PRWEB) November 18, 2015
Curly Hair Solutions® is ecstatic to partner with Ricky's NYC, an ultra hip beauty shop specializing in professional hair care products and much more.
With this exciting step into the U.S. retail market, our American curly consumers will finally get to experience the Curl Keeper® styling collection and all it has to offer. The hype is real. Currently, three of the hottest products from the style collection are sold in the five of the most popular Ricky's NYC locations, and come the New Year, Curly Hair Solutions® will run an in-store sample program, including product demonstrations and exciting promotional offers!
The products making their way into the popular U.S. beauty retailer are:
Curl Keeper® Original: Recommended for all curl types this product enables total frizz control and ultimate curl definition. A water-based formula makes everyday wear easy with no product buildup!
Curl Keeper® Styling Cream: Recommended for all curl types this product allows easy manipulation of curls into looser frizz-free locks. It's weather resistant, great for even the most humid days!
Curl Keeper® Gel: Recommended for all curls types this product boasts ultimate hold with frizz control. The gel supports any hair style for longer without crispy or flaky product build. A must-have product for style vixens everywhere!
Ricky's NYC is a popular beauty retailer with a cult-like following among teens and celebrities alike. With two decades of experience in New York's urban chic culture scene, Ricky's NYC transcends trends and celebrates individuality. Ricky's NYC has multiple locations in Manhattan and the New York surrounding area, as well as Miami, Florida. Ricky's NYC will sell all three Curly Hair Solutions® products in five different Ricky's NYC locations.
For more information about Curly Hair Solutions® full line of hair care products including the Curl Keeper® Collection, visit http://www.frizzoff.com.
About Curly Hair Solutions: Curly Hair Solutions® and Curl Keeper® Styling Collections are curly hair products that perform 100% of the time, on every curly head, in all weather conditions, without the use of silicones. Our ingredients are natural, biodegradable and are not tested on animals. Our products have been perfectly pH balanced to match our environment to our bodies resulting in healthier, shinier, and a more controllable result every time.