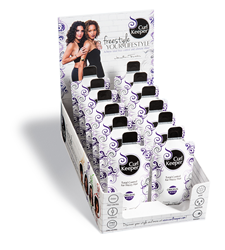 Toronto, ON (PRWEB) February 17, 2016
Curly Hair Solutions® is excited to announce their next product launch sample display boxes. The sample boxes are a great way for customers to experience Curly Hair Solutions® most popular products for a fraction of the price. The boxes themselves are easy to assemble and ready for display in a matter of seconds. They will be sold in beauty supply stores and a number of wholesale stores across Canada and the U.S.
Curly Hair Solutions® knows that those with naturally curly hair value the importance of finding quality products that actually work and they also know curlies tend to test products before committing to larger sizes more than their straight-haired counter parts. With this in mind, Curly Hair Solutions® has developed forward thinking sample display boxes so consumers can try out the best products before committing to larger sizes and higher prices. "The market is saturated and the key to standing out is affordable sample programs," says Jonathan Torch, founder of Curly Hair Solutions®. "This ensures curlies find the best quality products suited to their individual curly hair needs."
There will be four different sample display boxes available for purchase and each one will contain Curly Hair Solutions® top performing products. The sample box options are… the award-winning Curl Keeper® Original, Curl Keeper® Gel, Curl Keeper® Styling Cream, or Leave-in Conditioner. Each sample display box contains twelve 1oz sample packs and is conveniently sized for curlies on the go!
For more information about Curly Hair Solutions® full line of hair care products including the Curl Keeper® collection, visit http://www.frizzoff.com.
About Curly Hair Solutions: Curly Hair Solutions® ¬and Curl Keeper® Styling Collection are curly hair products that perform 100% of the time, on every curly head, in all weather conditions, without the use of silicones. Our ingredients are natural, biodegradable and are not tested on animals. Our products have been perfectly pH balanced to match our environment to our bodies resulting in a healthier, shinier, and more controllable result every time.