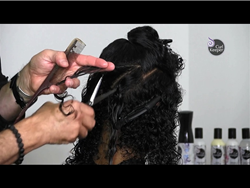 Learning how to reduce bulk in curly hair requires a precise and controlled cutting system.
(PRWEB) April 13, 2016
For the first time ever, in an exclusive video, Jonathan Torch will reveal his revolutionary hair cutting technique. The Tunnel Cut is a cutting method specifically designed for people with curly hair. The tailored approach produces dramatic results and show-stopping curls. Now from the comforts of home curlies everywhere can watch the curly hair expert at work!
Jonathan began his curly hair journey thirty years ago as a young stylist unaware of the impact he was about to make. What started out as a small salon and an interest in the textured curly hair community soon developed into a line of specialized products and hair-cutting techniques never seen before. Jonathan very quickly recognized a need to create distinct products for those with textured hair. From scissor selection and styling, to finishing (and everything in between), curly hair is in a category all its own – and needs its own method of cutting and styling.
Jonathan speaks about his technique, "Learning how to reduce bulk in curly hair requires a precise and controlled cutting system. In most cases thinning shears tend to shred your defined ringlets. It's absolutely imperative to add movement and bounce in the right places to achieve that perfect style." Today, Jonathan is recognized as pioneer within the textured hair world and a true curly hair expert. He is thrilled to release this exclusive video featuring the tunnel cut technique for curlies everywhere to enjoy. Stay tuned for more videos with the latest tips and tricks from the Jonathan and the whole team at Curly Hair Solutions®!
Watch the Tunnel Cut in action: https://youtu.be/x-Fp71ttpgI
For more information about Curly Hair Solutions® full line of hair care products including the Curl Keeper® collection, visit http://www.frizzoff.com.
About Curly Hair Solutions: Curly Hair Solutions® and Curl Keeper® Styling Collection are curly hair products that perform 100% of the time, on every curly head, in all weather conditions, without the use of silicones. Our ingredients are natural, biodegradable and are not tested on animals. Our products have been perfectly pH balanced to match our environment to our bodies resulting in a healthier, shinier, and more controllable result every time.