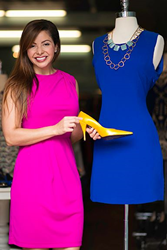 "When I launched this business almost a decade ago, as a new entrepreneur, I never imagined this level of organic growth."
ARLINGTON, VA (PRWEB) August 12, 2015
The DC-based woman-owned business, Current Boutique announced today it will be expanding its footprint in the North Arlington area in the coming weeks.
Owner, Carmen Lopez, who founded the successful designer consignment business in 2007, is moving into a new space that is close to triple the size of the old store. The old store measures just 1,000 sq. ft., and the new space will be over 2500 sq. ft.
The new store will also feature several enhancements for customers, to include: additional parking spaces, more dressing rooms, and prominent signage on the storefront.
Lopez also plans to double her staff, significantly increase inventory, and anticipates overall revenue growth in 2015 as a result of the expansion.
The main reason for the change in location is that the store is literally outgrowing their current space. Lopez shared:
"When I launched this business almost a decade ago, as a new entrepreneur, I never imagined this level of organic growth. It's bittersweet for me to be leaving the first space that I saved everything to open at the age of 25. But, it was time for a change to accommodate our inventory and customer traffic with crowded work space and long lines to the dressing room. I couldn't be happier to be expanding my business and moving into a bigger space nearby. I am confident that my regular consignors, customers, and friends will continue to support Current Boutique, and to continue loving our sought after pieces."
The new store is scheduled to open in early September, and will be hosting a re-launch party in the new Clarendon space on Thursday, September 17th from 5 PM to 8 PM. The event is open to the public.To RSVP to attend, email: Carmen@currentboutique.com.
About:
Current Boutique has four brick-and-mortar locations in the DC Metro area, and an online e-commerce store. The unique shop offers customers hand-picked consignment pieces that fit the criteria of great quality, style and fabric. Some of the sample designer brands range from Tory Burch to Marc Jacobs, Diane Von Furstenberg to BCBG, and Louis Vuitton to Chanel. The store also gets sought after leather handbags, cashmere, silk and designer denim. The sought after contemporary pieces, and ease of the consignment process are what sets the shop apart from other resale and consignment stores in the DC Metro Area.