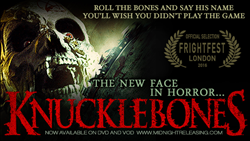 Knucklebones is a fun and scary homage to those iconic 80's era slasher movies.
Los Angeles, CA (PRWEB) October 28, 2016
Current Music has created an original score for "Knucklebones", a full length feature film in the Classic Monster Horror - Teen Slasher Genre. The score is composed by Todd P Andrew. Director Mitch Wilson says "Todd Andrew did an amazing job on our film Knucklebones. The movie truly came alive the day Todd came on board. His musical score is everything a horror movie director could wish for and I am eternally grateful to him as well as Maddie Madsen, Brooke Villanyi, Christian Salyer and the entire team at Current Music." The film, presented by Knucklebones Productions LLC and Midnight Releasing, is available on DVD, iTunes, Netflix and Amazon, just in time for a good Halloween scare.
Composer Todd P Andrew says: "I use a lot of dark electronic sounds. One of my favorite modern horror scores is the 'Hills Have Eyes' remake, with those low distorted sirens. Something about that makes me feel scared on it's own. Also, Christopher Young is my all time favorite, his music in 'Sinister' was the best thing about it, he took creepy sound design to a whole new level. I also love a good orchestral score too, like his music in 'Hellraiser', so I combined that in there too. I love throwing things together and seeing what happens, like the main melody for Knucklebones was made of backwards guitar feedback and some sounds that I stretched out and manipulated into that melody. One of my favorite modern directors is Rob Zombie, and after I finished each cue I gave it the 'Rob Zombie test'. Thats where I imagined sitting in a room and showing him what I just did. If I pictured him cringing or making a face, I had more work to do".
The storyline centers around Neesa Avery (Julin Jean), who after suffering a near death experience, has literally been to Hell and back. When she and a group of friends (Katie Bosaki, Cameron Dean Stewart, Taylor Tippins, Justin Arnold), discover an ancient dice game hidden behind a wall in an abandoned WWII factory, they unleash the powerful demon Knucklebones (Tom Zembrod), bent on taking them out one by one. The kids attempt to banish the demon with the help of a local homeless squatter (Jason Duffy Klemm), who, having had a previous run-in with the demon, further explains the rules of the dice game. As the kids attempt to finish the "game", it becomes clear that Knucklebones has special plans for Neesa and, having met her briefly in Hell, is saving her for last. With an emphasis on practical effects and an original creature design by GOTCHA HALLOWEEN CONCEPTS - a company founded by Academy Award winning visual effects wizard Robert Short (BEETLEJUICE) - Knucklebones is a fun and scary homage to those iconic 80's era slasher movies.
About the Director
Mitch Wilson is a produce screenwriter with over 15 years experience working in the film industry. The sale of his screenplay RED ZONE to Raw Nerve established relationships with Eli Roth (HOSTEL), writer Scotty Spiegel (EVIL DEAD II) and director Boaz Yakin (REMEMBER THE TITANS). He has also collaborated with Sheldon Lettich (BLOODSPORT, RAMBO 3) and Ryuhei Kitamura (VERSUS, NO ONE LIVES), among others. This is his directorial debut.
About the Producer
Dirk Hagen was approached by Orion Pictures Head Of Development for Joseph Sargent Productions early in his career. Responsibilities for the company focused primarily on the development and production of Feature and Movie-Of-The-Week projects. Dirk produced his first feature length film entitled AMBERWAVES (Rae Dawn Chong, Kelly Rutherford, Lenny Von Dohlen) in 1993. Since then he has gone on to direct several feature film projects (WHEELMEN, THE WARNING). Dirk's highly successful companies are Timberwolf Productions Inc. and it's subsidiary Timberwolf Events, which has become the foremost provider of Halloween and "haunted" event services in the industry.
About Current Music
Maddie Madsen, CEO, and Christian Salyer, CCO, have over 40 years of combined experience building music brands for Universal, Warner Chappell, Ole, Blazed Out Music and Ear Parade. After producing over 300 albums of production music, they launched Current Music in 2013. The company has scored TV series, feature films, national commercials, TV theme songs, sonic branding and penned pop songs for artists. Clients include Toyota, Wendy's, KFC, Carl's Jr., Mercedes, Toys R Us, Pepsi, Old Navy, Unilever, The Lakers, Disney Channel, Disney XD, Comcast, NBC, NBC Sports, CBS, The CW, ABC, Fox, Fox Sports, Showtime and Golf Channel. Find out more at http://www.currentmusic.com
Media Contact:
Maddie Madsen
+323 813 5944
Maddie@currentmusic.com
http://www.currentmusic.com