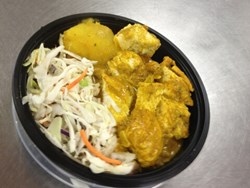 (PRWEB) September 04, 2013
Ena's Jerkmania, the go-to destination for Jamaican food in Springdale, Ohio, celebrates two years in business this year. Since its opening in September 2011, Ena's Jerkmania has quickly grown as a staple for local foodies. To commemorate this milestone, Ena's announced today the addition of a curry chicken rice bowl to its permanent menu of authentic Jamaican eats. The curry chicken rice bowl is a great, mild alternative to extremely spicy jerk dishes. Ena's Jerkmania's chicken curry rice bowl is an ample portion of chicken covered in curry sauce, served over rice. The bowl is now available for $6.25.
Although summer is winding down for many, Ena's Jerkmania continues to heat things up in the kitchen. The popular jerk eatery will be participating in the UniDiversity Festival at Miami University, Oxford Uptown Parks, September 20, 2013, from 5:30 p.m. to 9:30 p.m. Be sure to stop by Ena's table to taste the Jerk sensations everyone's been raving about.
In addition to its involvement in numerous events throughout the state of Ohio, Ena's Jerkmania regularly announces specials and new menu items on their Facebook page. Ena's current discount includes a 50-percent discount on any sandwich, wrap, salad, or rice bowl with the purchase of another item. Like them on Facebook to redeem your offer today.
About Ena's Jerkmania:
Founded in September 2011, Ena's Jerkmania located in Springdale, Ohio, is the brainchild of Ms. Ena's sons Marlon and Ashford Hayles. This family-owned and operated restaurant utilizes the increasing popular fast casual dining model providing customers with speedy, authentic, Jamaican Jerk cuisine. Marlon and Ashford opened Ena's Jerkmania to make premium Jerk fare readily available to the mass market. As the Ena's brand continues to expand, Marlon and Ashford are achieving their vision of solidifying Jamaican Jerk food as a top choice among ethnic cuisines. Ena's Jerkmania is the leading fast casual dining option for Jamaican food in Springdale, Ohio. The Ena's brand includes Ena's Caribbean Kitchen in Columbus, Ohio. For more information about the Ena's brand and Ena's Jerkmania, visit http://www.thatsjerk.com.