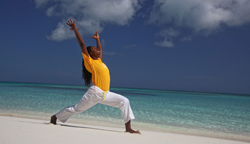 The Ayurvedic Yoga Therapy Course was deeply transformational.
San Francisco, CA (PRWEB) February 25, 2014
The program is offered November 14-23 in Colombia. The program allows students to learn how to teach individualized and group Yoga programs based on the nature of the student's Ayurvedic constitution and imbalances. For more details about the program, please visit http://www.escuelaayurveda.com/recursos/programas/talleres/terapia-yoga-ayurvedica.
An Ayurvedic Yoga Therapist is a specialist capable of utilizing yoga therapies to alter the physiology of the body in a manner that supports the healing process. As such, Ayurvedic Yoga Therapists are uniquely placed to participate as a health care team member as the work they do complements the work of all other therapists.
Ayurvedic Yoga Therapists utilize asana, pranayama, pratyahara and meditation as their main tools. Each practice and the manner in which it is practiced affects the physiology of the patient differently. The language of understanding how the physiology of body is changed is the language of the three doshas. The foundational knowledge of the Ayurvedic Yoga Therapist is the knowledge of the 10 pairs of opposite qualities, five vayus, the doshas, the chakras and the nadi. Understanding how these energies and energy centers function is the key to the restoring balance to the physiological systems of the body and supporting the healing process.
Established in 1995, the California College of Ayurveda is the longest running, State-approved collegei offering professional training programs for the study of Ayurvedic Medicine in the West. The Ayurveda School is dedicated to providing the highest quality education and health care in the field of Ayurveda. For more details about the therapies and consultations offered, please visit http://www.EscuelaAyurveda.com.