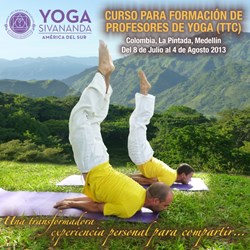 The conquest of fear is essential to balance the mind and emotions. This program is highly recommended
Montevideo, Uruguay (PRWEB) July 31, 2013
The Sivananda Yoga Center in Uruguay is proud to announce its Yoga to balance fear, which will take place August 7th in Acevedo Díaz 1523 - 11200 Montevideo, Uruguay. For more information, please visit http://www.sivananda.org.uy.
In this program, students will learn how to practice the Yoga to balance their emotions and control fear, using movement and breathing for achieving balance and harmony. Traditional Yoga practices have a key role in the preservation of good health and youthful look and feeling. By practicing Yoga regularly, one is able to maintain an optimal flow of energy throughout the body, keeping both the body and mind in good balance.
The Sivananda Yoga center in Yoga Montevideo provides a unique experience into the practices of Yoga. More than just a yoga center, it offers teachings derived from the deeply-rooted Hatha Yoga traditions of a renowned lineage. All of the center's practices are geared toward the development of inner peace for a more harmonious world. Established by Swami Vishnudevananda in the name of Master Swami Sivananda, the center presents a balanced experience of Raja Yoga, Karma Yoga, Bhakti Yoga and Jnana Yoga Brasil. The practices taugh includes meditation, pranayama (yogic breathing practices), and asana (yoga postures).
The Montevideo center sponsors a Yoga teacher training course (entrenamiento de Yoga en Uruguay). During this four-week intensive Yoga course, students will integrate daily Yogic life with their training. This course is uniquely designed to provide a firm foundation from which the student will be able to teach others both intuitively and confidently. The course aims to strengthen a practitioner's own Yoga practice through self-discipline and awareness of the nature of body, mind and spirit.
For more information, please visit http://www.sivananda.org.uy.