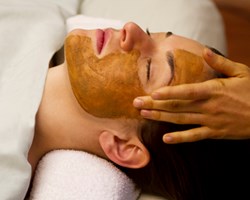 Carolina is a talented Ayurvedic Health Practitioner offering her services in Yucatan.
Cancun, Mexico (PRWEB) November 19, 2013
La Escuela de Ayuveda de California is pleased to present the Ayurveda Health Practitioner Interns from 2013. The group of interns comes from Argentina, Bolivia, Mexico, Colombia and the Dominican Republic. For more information please visit (para más información): http://bit.ly/1bTikQ4.
An Ayurvedic Health Practitioner intern is focused on the preventative application of Ayurveda. This includes health and wellness promotion, elimination of the primary causes of the disease and its manifestations in the digestive system and mind. The intern will work with the following therapies: Ayurvedic food, herbs, aromatherapy, color, sound and mantra, Yoga and other ayurvedic and yogic practices. Those who have a medical condition and are looking for a specific Ayurvedic treatment, should consult a Clinical Ayurvedic Specialist.
Carolina Pretto has practiced and taugh Yoga and Vaishnava philosophy for the last 24 years. She began studying alternative medicine with naturopathy. This led to India where she studied acupressure and reflexology with Dr. Pramod Vijay in the state of Bihar. Her first approach to Ayurveda was there at its center where they offerd ayurvedic therapies and medicine. At that time, she studied Ayurveda for a year in southern India where she discovered Ayurvedic body therapies. She then studied at the Bach Centre in England, where she discovered the magic of Bach flowers. She began her studies with Escuela de Ayurveda de California in 2010. To request an Ayurvedic consultation, contact the school emailing: info(at)escuelaayurveda(dot)com.
Established in 1995, the Ayurvedic school is the longest running college offering professional training programs for the study of Ayurvedic Medicine in the West (medicina ayurvedica). The school offers a variety of shorter length workshops and seminars, and trains students to become Ayurvedic practitioners. The school also offers in Yucatan and throughout Mexico the "Educador de Salud Ayurveda" program, a year-long training program (Level I studies).
For more information on the programs offered by the Escuela de Ayurveda de California, please visit http://www.EscuelaAyurveda.com or call +1 530 616 8332.