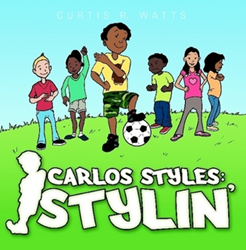 CULVER CITY, Calif. (PRWEB) May 11, 2016
Author Curtis R. Watts says children need to march to the beats of their own drums without judgment or pressure to conform. His debut children's book, "Carlos Styles: Stylin'" (published by Lulu), encourages kids to like themselves.
Watts says he was inspired to write the book because of "a desire to encourage kids to express themselves freely," and also because "there is a lack of books in the marketplace about boys that like clothing or take pride in their appearance. Hopefully, this book will help fill that void."
In the book, Carlos Styles learns that being himself will always yield the greatest results. His family, schoolmates and teachers play various supporting roles in the story, Watts adds.
"Standing up to and defeating bullies is a common issue in today's society," Watts says. "This book subtly tells a story of a young boy overcoming peer pressure and succeeding while doing what feels right for him … There are a number of books about little girls expressing themselves through their fashion choices. I was unable to find any books about boys that appreciate clothing. This is especially timely as the number of men showing an interest in fashion is on an upswing."
"Carlos Styles: Stylin'"
By Curtis R. Watts
Softcover | 8.5 x 8.5in | 22 pages | ISBN 9781483444567
E-Book | 22 pages | ISBN 9781483449104
Available at Amazon and Barnes & Noble
About the Author
Curtis R. Watts is a public administrator with a varied career in local government and non-profit management. For as long as he can remember, he has been an arts, sports and fashion enthusiast. However, he is chiefly an ongoing advocate for a world where everyone, especially children, is free to express themselves without fear of judgment. This is Watts' first book, but he plans to create a few more Carlos Styles adventures to share with the world.
Lulu empowers people of all ages to explore and express their interests, passions and expertise through books, photography and art. Since introducing self-publishing in 2002, Lulu has empowered creators in more than 225 countries and territories to produce nearly two million publications. Lulu Jr. allows children to become published authors, encouraging creativity, strengthening literacy and building self-esteem. Picture.com offers professional photography of collegiate and professional sports, memorable and historic events, fine art and home décor. For more information, please visit lulu.com.