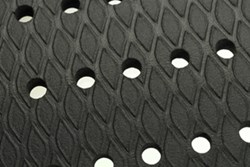 Cushion Max Mats provide anti-fatigue relief in slippery food service and industrial applications.
Cleveland, OH (PRWEB) January 23, 2014
The new Cushion Max Anti-fatigue Mats are designed for dry or wet environments, making them ideal for a variety of industrial and commercial kitchen applications. Similar in cost to common PVC foam mats, these Nitrile rubber mats offer twice the life of PVC mats. They feature a diamond surface pattern that is more durable than the ribbed surface that may peel or wear off on other mats.
Cushion Max use closed-cell Nitrile blended cushion, making the 5/8" thick mats extremely effective in providing anti-fatigue comfort. They are chemical resistant, as well as grease and oil proof. The National Floor Safety Institute certifies the diamond patterned top surface slip resistant.
The Cushion Max Mat features a tapered border for safe transition from the mat to the floor. The durable mats come with or without drain holes. Scrubbing with a desk brush, and a neutral pH detergent when necessary, easily cleans them. They may then be rinsed with a hose or pressure washer, and hanged to dry.
"Cushion Max Mats provide anti-fatigue relief in slippery food service and industrial applications," states company president Dan Ruminski.
Cushion Max and Comfort Scrape Mats are made in the USA, and come in four standard sizes ranging from two by three feet to three by twelve feet. In addition to these standard sizes, Martinson-Nicholls can provide Cushion Max in rolls up to 45 feet long.
About Martinson-Nicholls
Martinson-Nicholls, has established itself as a leader in custom anti-slip tape, floor mats, and eco-friendly products for more than 25 years.
Martinson-Nicholls provides the customer with the exact size matting needed--small, large, standard, nonstandard, special shapes and logos. Custom installations are also a specialty of the company.
Anti-slip safety tapes and treads are available in various sizes and textures from hand cut or die cut pieces to full rolls and special shapes. For more information, please visit http://www.floormat.com.