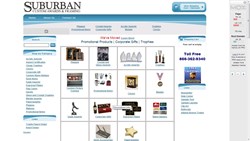 Decatur, GA (PRWEB) November 19, 2013
Suburban Custom Awards is offering discount on bulk purchase of Gold Cross Faith Plate. The price for the single plate is $45, but on placing an order of above six plates, customers will be given quantity discounts. The larger the order, the more you save.
One of the company executives said, "We are offering quantity discount on Gold Cross Faith Plate for the month of November. The unique faith plate comes for $45 each and if you place an order of seven pieces or more, we will give you a discount of at least 5 percent on each plate. This is a unique faith plate that stands a little more than 14 inch high. Its wooden portion is hand polished and features a cross made of gold leaf. You can include four lines of text on its base. We provide a complimentary proof to make sure that the engraving is done to your satisfaction."
Suburban Custom Awards has an exquisite collection of acrylic and crystal awards, custom trophy, plaques, certificates, clocks, corporate gifts and desk items. Customers can also shop for a variety of decorative marble merchandise, paperweights, name badges, ribbons and other promotional items from the store. All the collection is made of quality material and it is affordably priced.
"We take pride in having a highly trained staff who is always ready to go the extra mile for our customers. They use their knowledge and professional ways to give you the best of everything. Our success lies in the fact that we are capable of retaining customers. Our clients have been coming to us year after year for buying custom awards and plaques," added the executive.
Buyers can count on Suburban Custom Awards for all kinds of trophies and awards. It has helped hundreds of clients in making an unforgettable impression on their employees and business partners by designing them best quality corporate gifts. The store has a huge collection of crystal and glass awards, acrylic awards, medals, frames, plaques, name badges, eagle awards and football awards trophy.
About Suburban Custom Awards:
Suburban Custom Awards is a leading award manufacturing company based in Atlanta. It was established in 1964 and since then, it has been catering to the needs of its clients by making custom award designs. All of its trophies, plaques, medals and promotional products are trendy and affordably priced. To have a look at the humongous collection of the company, click here.
Contact Details:
Suburban Custom Awards
215 Laredo Dr.
Decatur, GA 30030
Phone: (404) 373-3544 [Local], (866) 362-9340 [Toll Free]
Fax: (404) 378-4503
Website: http://suburbancustomawards.com/