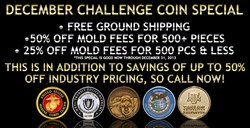 Mount Vernon, NY (PRWEB) December 03, 2013
LogoTags is pleased to announce that it is extending its special discounts on custom challenge coins through the end of 2013. The company initially announced these discounts to run through the end of November 2013, but they proved very popular with customers and prompted the decision to make this extension. LogoTags already offers the lowest base prices in the custom challenge coin industry, and the discounts listed below will now expire after December 31, 2013:
-Free Ground Shipping
-50% off mold fees for 500 pieces or more
-25% off mold fees for quantities less than 500 pieces
"Our everyday prices and these discounts will provide substantial savings for anyone who orders custom challenge coins with us," said Dawn Milanese, Managing Director of LogoTags. "Our customers often express disbelief that we offer such high quality products at such low prices, but it is because we are an established company with strong global partnerships that no one else has."
LogoTags is a division of Ball Chain Manufacturing, the largest manufacturer of ball chains in the world. BCM was founded in 1938 and is headquartered in Mount Vernon, New York, where it operates its main production facilities, administrative offices, and customer service operations. LogoTags also has numerous exclusive partnerships with suppliers and manufacturers around the world, which enables the company to offer large pricing discounts over its competitors. LogoTags is a full service promotional products company that offers a full range of products that includes custom dog tags, challenge coins, bottle openers, metal tags, lapel pins, key chains, silicone bracelets, and thousands of other custom products. The company's clientele includes major international corporations, professional sports teams, entertainment companies, major universities, and government agencies.
For more information about custom challenge coins and other promotional products, visit LogoTags at http://www.LogoTags.com.