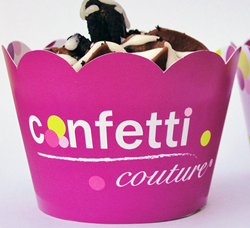 Confetti Couture has brought their one-of-a-kind style and quality to these new custom cupcake wrappers.
Fort Collins, CO (PRWEB) March 20, 2014
Custom cupcake wrappers have been out of reach for bakeries with high costs and low quality. Expanding their wholesale line of products, Confetti Couture, a party supply manufacturer, now offers custom cupcake wrappers, with their trademark designer look. Known for their unique, hand designed art adorning paper party products, Confetti Couture has brought their one-of-a-kind style and quality to these new custom cupcake wrappers.
With the influx of new bakery businesses into the market in recent years, bakeries of all sizes and types are looking for ways to set their business apart from others. As a box of gourmet cupcakes travels across the counter at a posh cupcakery, and the cupcakes are removed to a cake platter on the hostess' table, typically, the bakery's branding is lost. Restaurants have long used food packaging as a branding opportunity, but until recently, this hasn't been an affordable option for the many small bakeries. With competition in the industry rising, bakeries are seeing the need for better branding. Serving both large and small baking companies, Confetti Couture has begun to offer custom bakery packaging to support both small cupcakeries and large bakeries working to brand their businesses.
Already, businesses are benefitting from Confetti Couture's custom line of products. Bakeries of all sizes are now able to attach their logo to their products and to offer an exclusive line of event wrappers. Making custom an affordable option, even for smaller bakeries, Confetti Couture's custom cupcake wrappers come with the party supply company's full design services.
This party supply manufacturer also offers a complete line of cupcake wrappers in stock for events. With hand designed stock cupcake wrappers offered to their wholesale customers, Confetti Couture boasts the trendiest designs for seasonal sales, weddings, and events. In addition, retail ready, packaged cupcake wrappers are available to resellers on their wholesale website.
Confetti Couture is an inventive manufacturer at the fore-front of designer party supplies and bakery goods focused on the modern hostess. Confetti Couture offers an array of products, both retail and wholesale, that give the hostess a sophisticated, but playful edge on entertaining. Hand designed art is what sets their products apart from the usual and expected party goods and brings personality to the party. The Confetti Couture website is a complete and creative planning resource for hosting a wedding, party, or any other event.
http://www.confetticouture.com/
800-808-4995