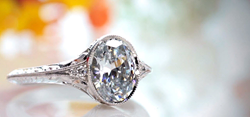 It's a way for you and your loved one to share something totally unique and one-of-a-kind, a true symbol of your love.
Minneapolis, MN (PRWEB) March 04, 2014
Knox Jewelers, a company that designs and manufactures fine custom engagement rings and wedding bands, recently unveiled a new version of its website to the public. The website's latest features include a new front page and product pages.
The company's revamped website offers an easy-to-use and in-depth look into its diverse range of merchandise. Knox Jewelers is best known for its selection of unique engagement rings, wedding bands, diamonds, and gemstones, and the website's latest product pages provide extensive details about each of its items. In a similar fashion, Knox Jewelers' website's front page is attention grabbing and informative: beautiful, high-quality images of the company's rings are complemented by overviews of its most popular creations and services.
According to Knox Jewelers' website, the family-owned company also specializes in creating custom ring designs, a process that involves the collaboration of award-winning designers and master jewelers. Knox Jewelers aims to help all of its clients create the perfect ring by providing custom design consultations and assistance with center stone and metal selections. All rings come with a Knox lifetime warranty.
"Designing your own engagement ring is an exciting and memorable process," stated an article on the company's website. "It's a way for you and your loved one to share something totally unique and one-of-a-kind, a true symbol of your love."
For over 30 years, Knox Jewelers has provided its customers with distinctive and timeless pieces of jewelry. The jewelry company's signature designs include contemporary and antique engagement rings, men's and women's wedding bands, pendants, bracelets, and earrings.
Individuals interested in learning more about Knox Jewelers and its redesigned pages can visit the company's website for additional information. Customers can also subscribe to Knox Jeweler's Facebook and Pinterest accounts for frequent updates from the company.
About Knox Jewelers:
Based in Minneapolis, Minnesota, Knox Jewelers is a leading designer and manufacturer of heirloom quality engagement rings and wedding bands. The company has its own line of unique engagement rings and specializes in helping clients design their own rings. Knox Jewelers is family owned and operated and have been in business since 1984. For more information, please visit http://www.knoxjewelers.biz.