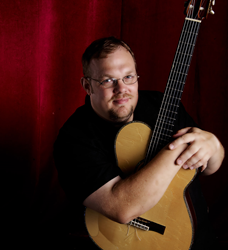 Boerne, TX (PRWEB) November 06, 2014
Guitar master Richard Smith will return to Boerne for an evening concert of solo fingerstyle guitar. The concert will begin at 7 p.m. on Friday, Nov. 14 and take place at Hearts' Home Acoustics, 109 Oak Park Drive in Boerne, Texas.
Smith, a native of England, began playing guitar at age 5. Having learned Chet Atkins tunes from his father, he quickly developed an amazing dexterity and a sharp ear for music, and soon began learning complicated music with ease. Often, a single hearing was all it took to get a piece under his fingers. He went on to master the styles and repertoire of his heroes Chet Atkins, Merle Travis and Jerry Reed, along with the jazz styles of Django Reinhardt, Les Paul and Lenny Breau.
With 10 CD releases and a DVD to his name, and concentrating mainly on a solo career, Smith is well-known for mixing it up and playing a wide range of musical styles using various techniques. Blues, Joplin rags, Bach, Chopin, flatpicking fiddle tunes, Sousa marches, fingerstyle jazz and straight Travis picking tunes make up his evolving repertoire. Nowadays, Smith balances his time between concertizing on the road and lending his ears and licks to other artists' music, producing their records in his very own Tunesmith Studio.
Here's what other music legends have to say about Richard Smith:
"The most amazing guy I know on the guitar. He can play anything I know, only better." - Chet Atkins, CGP (Certified Guitar Picker)
"If you like my playing, you should hear Richard Smith! The world champion!" - Tommy Emmanuel, CGP (two-time Grammy nominee)
"Guitar playing at its finest. Don't miss this one." - Doyle Dykes (thumbpicking wizard)
"He is one of the world's greatest guitarists." - Muriel Anderson (All-Star Guitar Night)
Tickets are $15 at the door, $10 pre-sale (through Nov. 13), and $5 with student ID. For further information, please call 830-331-9840 or visit http://www.HeartsHomeAcoustics.com.
About Hearts' Home Acoustics:
With an extensive collection of fine and exotic tonewoods brought from around the world, Hearts' Home Acoustics commissions America's most gifted luthiers to build guitars using hand-picked woods matched for acoustic and aesthetic perfection. Customers of the store have included prominent professional musicians, nationally-touring bands, and multiple Grammy Award-winning recording artists.
New musicians are also undergirded with a selection of student instruments and a competitive rental program. The faculty of HHA's music school offers instruction in more than a dozen instruments and willingly shares insight and advice to benefit any student, whether beginner, intermediate, or advanced.
The store is an active member of the Boerne and Greater San Antonio communities. It hosts monthly "jam sessions" that are free and open to the public, along with house concerts and charity events. HHA is a longtime sponsor of the Boerne Performing Arts series.