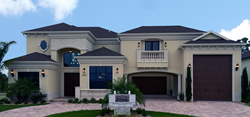 Nuvision Builders' onsite custom home design team will guide you every step of the way.
Titusville, Florida (PRWEB) March 12, 2015
Custom home buyers are now utilizing the new luxury model home showroom to consult with NuVision Builders' onsite design team. Each new custom home buyer now has the advantage of onsite selection for each custom home design feature.
While custom home buyers are making their choices, selecting interior and exterior design features for their new custom home, NuVision Builders' onsite design team consults and guides the custom home buyer every step of the way.
To learn more about this new custom home model showroom visit Nuvision Builders website.
NuVision Builders' new model home showroom includes a wide variety of design features such as:
Select floor plan and design your interior spaces.
Select steel-reinforced concrete walls.
Select exterior wall colors and select roof shingle color.
Select kitchen cabinets, countertops, and bath vanities.
Select lighting fixtures and smart home technologies.
Select appliances, plumbing fixtures, and sinks, and tubs.
Select floor treatments including tile, wood, and carpet.
Select type of pool, spa, and outdoor kitchens.
Select interior decorating features.
More About NuVision Builders
Mark Ledford is president of NuVision Builders. Mark is a State Certified General Contractor since 1994. Prior to acquiring a General Contractor's license, Mark performed construction for 10 years in the concrete, steel, and carpentry trades.
Mark's formal business education occurred at Florida State University, and by enrolling in a Construction Technology Degree Program at Daytona State College. Mark studied drafting, architecture, engineering, computer design, construction management, and estimating. Mark has focused his career building luxury residential homes.
Mark achieved the distinction of LEED Accredited Professional. LEED is an acronym for Leadership in Energy & Environmental Design. LEED is a nationwide green building certification program which recognizes best-in-class building strategies and practices. Visit the custom home website and learn more about NuVision Builders.