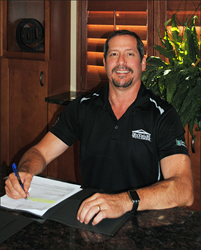 Custom Home Buyers Gain Guidance In Each Selection Decision.
TITUSVILLE, FLORIDA (PRWEB) April 09, 2015
Custom home buyers are now utilizing a new custom model home to learn more about luxury amenities while visiting the custom home design team at NuVision Builders in Titusville, Florida.
Each new custom home buyer gains several advantages by onsite selection of features and floor plan decisions.
The NuVision Builders team offer guidance for custom home buyers during every step of the decision-making process. Visit Nuvision Builders Custom Model Home page online today.
The new custom model home offers exceptional walk-through viewing so that custom home buyers can select a custom designed floor plan and select a unique interior space layout. This type of luxury living includes reinforced concrete walls, a selection of wall colors and roof shingles.
As for interior spaces, the custom home buyer can utilize the custom model home to view custom kitchen cabinets, bath vanities, and countertops offered by NuVision Builders' custom design team experts. In addition, the custom home buyer selects their preference for appliances, plumbing fixtures, and electrical lighting.
The custom home buyer has outstanding choices available for custom flooring, not limited to wood, tile, and carpeting NuVision Builders offers from luxury brand manufacturers. Moreover, the custom home buyer selects feature choices such as swimming pool, spa, and outdoor kitchen design.
This new custom model home is situated in a luxury home neighborhood with gated entry, luscious landscape design, well-manicured private home sites to choose from. This new custom model home has smart home and energy-efficient technologies to reduce the cost custom home buyers pay month over month after closing purchase.
In addition to gated access to this luxury community, custom home buyers can utilize this community's other amenities, including a walking trails, biking trails, community center filled with great friends in a family environment with safety and security in mind.
This new custom model home is situated in a pristine nature-filled community located just minutes from the clean beaches of Brevard County along Central Florida on the Atlantic Ocean. Custom home buyers enjoy a brief 35 minute ride to arrive at theme parks in Orlando, Florida, and located in close proximity to all major shopping centers, retail shops, entertainment and dining.
Custom home sales are increasingly popular in northern Brevard County, Florida. Custom home buyers touring the new custom home during an open house event expressed their desire to relocate to this area of Central Florida due to its seasonal cycles, off-shore breeze, and living in a community known for fresh air, clear lakes and streams.
Titusville, Florida is just a few minutes from a pristine national park and home of Kennedy Space Center.