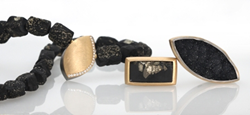 San Francisco, CA (PRWEB) July 25, 2014
Union Street Goldsmith has recently added some new designs to their already large collection of jewelry. They are now offering a huge, new selection of Marcel Roelofs jewelry designs.
The new collection features interchangeable Vario components. The necklaces use the Vario connectors, which make them interchangeable. Customers can buy one pendant, and it will connect to different neck cords, beads or pearls. They can also have their own pearls or gemstone beads restrung with the Vario ends to be compatible with these pieces.
For customers who already have Union Street Goldsmith's other Vario designs, these new designs will be a great addition. They have the same mechanism as other Vario designs and will work with customers' existing collections.
Marcel Roelofs' idea for the collection is to remove the clasp from its purely functional niche and place a spotlight on it as a jewelry item in its own right. The extensive range of interchangeable clasps offered by Roelofs enable the creation of countless variations, combinations and individual designs. The ingenious, secure bayonet fastener systems allow the wearer to interchange the clasp elements with ease to suit the mood or occasion. To learn more about the collection, visit http://marcel-roelofs.com/.
The new selection at Union Street Goldsmith includes aquamarine, lapis, polished marble, slate with pyrite, petrified wood, bronzite and even Murano glass. Stop in to the jewelry store today to check out the new designs.
About the company:
Glenda Queen, with a background in arts and crafts, entered the jewelry business in 1964. After 11 years of making jewelry at McLeans in Sausalito, she and her present partner, Terry Brumbaugh, opened Union Street Goldsmith. Queen chose a neighborhood she hoped would be a comfortable setting for her craftsmen as well as her clients and it worked. Brumbaugh, raised in the jewelry business, later became a gemologist. After an extensive period of travel, he joined with Queen to head up the Union Street Goldsmith sales staff. Brumbaugh has a rare gift in his memory of client's collections, enabling him to design new pieces to fit his clients' special tastes and their collections. An excellent sense of style and fashion endows Brumbaugh with the ability to give valuable guidance to his clients in their jewelry selection, helping each one to create an overall special look within their collection.