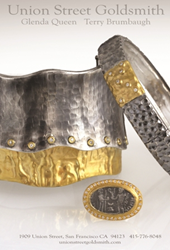 San Francisco, CA (PRWEB) September 25, 2014
New jewelry designs by Turkish designer Kurtulan are now available at Union Street Goldsmith. The San Francisco jewelry store is always up on the latest fashions and constantly offers new and exciting gems and jewelry designs. They are excited to be offering the latest from Kurtulan.
Kurtulan designs are chic, authentic and high quality. Each piece is handmade and comes with its own serial number and certificate. Kurtulan mixes 22kt gold, blackened silver, diamonds and fine gemstones to create these gorgeous pieces.
The designs are very fashion forward and unique. The collection includes chunky signature pieces as well as smaller everyday styles, so there is something for everyone to enjoy. The staff at Union Street Goldsmith is crazy for these new designs by Kurtulan and knows that their customers will be too.
Get an idea of what the new designs look like by visiting http://kurtulan.com/. Union Street Goldsmith has the new Kurtulan designs at their store right now and invites all their customers to come by and check them out. They are located at 1909 Union St., San Francisco, CA 94123. For more information, call 415-776-8048 or visit their website.
About the company:
Glenda Queen, with a background in arts and crafts, entered the jewelry business in 1964. After 11 years making jewelry at McLeans in Sausalito, she and her present partner Terry Brumbaugh opened Union Street Goldsmith. Queen chose a neighborhood she hoped would be a comfortable setting for her craftsmen as well as her clients, and it worked.
Brumbaugh, raised in the jewelry business, later became a gemologist. After an extensive period of travel, he joined with Queen to head up the Union Street Goldsmith sales staff. Brumbaugh has a rare gift for remembering client's collections, enabling him to design new pieces to fit his clients' special tastes and their collections. An excellent sense of style and fashion endows Brumbaugh with the ability to give valuable guidance to his clients in their jewelry selection, helping each one to create an overall special look within their collection.
Union Street Goldsmith is the ideal place to find custom jewelry, engagement rings or diamond rings. For more information and to preview their collection, please visit their website at http://www.unionstreetgoldsmith.com/.