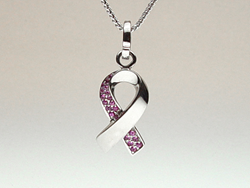 San Francisco, CA (PRWEB) October 17, 2014
October is National Breast Cancer Awareness Month, and to show their dedication to the cause, Union Street Goldsmith has a new pink sapphire jewelry collection. Stop by the jewelry store today and show support by wearing this beautiful pink jewelry.
The new collection features an 18-karat white gold breast cancer awareness ribbon pendant with pink sapphires. This beautiful piece showcases the beauty of the pink sapphire and its important significance to the cause.
Traditionally, the pink sapphire is said to generate feelings of love, forgiveness, acceptance and release. It provides strength in difficult situations. With a hardness of nine, sapphires (along with rubies) are the most durable colored stones, making them a great option for everyday wear.
Union Street Goldsmith has a huge collection of pink sapphire jewelry, including platinum, white gold, rose gold and yellow gold pieces. Stop by the store, located at 1909 Union St., San Francisco, CA 94123, to pick up a beautiful pink sapphire piece in honor of breast cancer awareness today. For more information, visit their website at http://www.unionstreetgoldsmith.com/.
About Union Street Goldsmith:
Glenda Queen, with a background in arts and crafts, entered the jewelry business in 1964. After 11 years of making jewelry at McLeans in Sausalito, she and her present partner, Terry Brumbaugh, opened Union Street Goldsmith. Queen chose a neighborhood she hoped would be a comfortable setting for her craftsmen as well as her clients and it worked. Brumbaugh, raised in the jewelry business, later became a gemologist. After an extensive period of travel, he joined with Queen to head up the Union Street Goldsmith sales staff. Brumbaugh has a rare gift in his memory of client's collections, enabling him to design new pieces to fit his clients' special tastes and their collections. An excellent sense of style and fashion endows Brumbaugh with the ability to give valuable guidance to his clients in their jewelry selection, helping each one to create an overall special look within their collection.