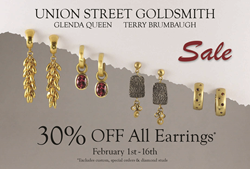 San Francisco, CA (PRWEB) February 03, 2015
Union Street Goldsmith is holding a huge sale for their customers. They are now offering 30 percent off all earrings. This is a very big event and a rare one, since Union Street Goldsmith does not offer sales often, especially such large discounts. They are encouraging customers to come down to the store and take advantage of the great deals.
The entire inventory of earrings will be 30 percent off from Feb. 1-16. However, the sale excludes custom, special orders and diamond studs.
Union Street Goldsmith has an amazing selection of jewelry, including their own handmade designs by Glenda Queen, as well as by many other designers such as Gurhan, Dilamani Designs, Kurtulan and Shasha Primak. The quality of their fine colored gemstones is unmatched, and the selection of pave diamond earrings is huge.
Union Street Goldsmith has colored gemstones in all the most known varieties, as well as many rare and unusual gemstones like Paraiba tourmaline. Of course, they also have diamonds and champagne diamonds.
Earrings are available for a large range of prices and just in time for Valentine's Day. Union Street Goldsmith is ready to help their customers make this Valentine's Day special with the perfect gift. For more information, visit http://www.unionstreetgoldsmith.com/.
About Union Street Goldsmith:
Glenda Queen, with a background in arts and crafts, entered the jewelry business in 1964. After 11 years of making jewelry at McLeans in Sausalito, she and her present partner, Terry Brumbaugh, opened Union Street Goldsmith. Queen chose a neighborhood she hoped would be a comfortable setting for her craftsmen as well as her clients and it worked. Brumbaugh, raised in the jewelry business, later became a gemologist. After an extensive period of travel, he joined with Queen to head up the Union Street Goldsmith sales staff. Brumbaugh has a rare gift in his memory of client's collections, enabling him to design new pieces to fit his clients' special tastes and their collections. An excellent sense of style and fashion endows Brumbaugh with the ability to give valuable guidance to his clients in their jewelry selection, helping each one to create an overall special look within their collection.